July/August, 1997 Volume XII Number 7 - DEPARTMENTS



News Notes




---
FACE suit brought against Englewood, NJ rescuers

Newark, NJ -- The government sued 30 abortion protesters, charging they violated a federal law protecting access to abortion clinics.
The demonstrators chained themselves together or laid down in front of a clinic entrance during at least one of three protests, the lawsuit said.
A 1994 Freedom of Access to Clinic Entrances (FACE) law makes it a federal crime to block access to abortion clinics.
"Today's case underscores our commitment to enforce the law," said Isabelle Katz Pinzler, acting assistant attorney general for civil rights.
The Justice Department civil lawsuit seeks a court order keeping the protesters 60 feet away from the Metropolitan Medical Associates clinic in Englewood and a $5,000 fine for each violation.
Weekend protests have been staged outside the clinic by anti-abortion groups because it performs a certain type of late-term abortions. More than 40 arrest have been made at the clinic since January.

---
Columbia Court legalizes euthanasia

Bogota, COLOMBIA -- On May 20, Colombia's highest court legalized euthanasia for terminally ill people who "clearly" have given their consent.
The Constitutional Court decided 6-3 that a person acting under strict guidelines cannot be held criminally responsible for taking another's life.
However, the court president said judges would have to come up with the guidelines and consider on a case-by-case basis whether a person is terminally ill.
"Certainly each death is going to create a conflict, so the judge will have to evaluate the circumstances of each case,'' Antonio Barrera said.
The ruling came in response to a lawsuit filed by a man who opposes mercy killings and wanted all references to it removed from Colombian law.
The law has defined mercy killing as homicide to end intense suffering caused by injury or disease; it was punishable by at least six months in prison.
The world's only voluntary euthanasia law, adopted by Australia's Northern Territory last year, was struck down in March with a federal law.
Four people had committed suicide under the law, which allowed the terminally ill to get medical help to end their lives if cleared by three doctors.
In the United States, federal courts have blocked a voluntary euthanasia law approved in a 1994 referendum from taking effect in Oregon.
Doctors in the Netherlands may perform mercy killings within strict legal guidelines, but euthanasia is technically illegal.
One Colombian judge who voted against legalizing euthanasia, Jose Gregorio Hernandez, said the majority was operating under the "erroneous premise that each person is the owner of their own life.''
"No one should be able to take the life of another, but at the same time no one should be able to take their own life,'' he said.

---
Future teacher arrested for child porn in NYC

Albany, NY -- A college student who said he wanted to be a kindergarten teacher has pleaded guilty to sending child pornography on the Internet, including lewd pictures of children as young as 18 months.
Nathaniel Levy, 21, of New York City, whose computer name was "NateTSnake," admitted to a felony charge of promoting a sexual performance by a child before Albany County Judge Larry Rosen.
The psychology student at the University of Albany faces up to seven years in prison at his June 23 sentencing. As part of his plea, Levy also was asked to surrender his personal computer.
According to authorities, Levy prowled Internet "chat rooms," looking for people who had access to kiddie porn. He was arrested in January by an undercover officer who asked Levy to send him child pornography through the computer.
Levy allegedly transmitted more than 35 pornographic photos showing toddlers and young children engaged in various sexual acts. During one of his conversations on the Internet, Levy mentioned that he wanted to be a kindergarten teacher, authorities said.

---
Milwaukee sidewalk counselor faces eight years in jail

Milwaukee, WI -- A Milwaukee man faces eight years in jail for disobeying an injunction which has not been enforced since 1994.
James Chinavare, a father of three and a sidewalk counselor, was served notice that State Attorney General James Doyle is charging him with eight separate counts of violating an injunction obtained by the Planned Parenthood abortuary in Milwaukee in 1992. Doyle intends to seek the full, one-year sentence for each charge. The possible sentence could also include $40,000 in fines.
Chinavare has been passing out pro-life and gospel literature inside the injunction zone for the past two years without incident. But, since last January, pro-aborts have videotaped Chinavare eight times in front of the abortion clinic.

---

Disney artist arrested for child porn

Orlando, FL, -- An Emmy award winning Walt Disney World graphic artist was arrested on April 19 on 128 counts of possession of child pronography.
Christopher Bradley of Australia was picked up by Orange County, Florida, Sheriff's deputies when he went to meet a person he thought would be a 13-year-old girl he met in an Internet chat room.
He allegedly used his office computer for the online conversations and to download pictures of naked children from the Internet. He is being held on $120,000 bond in the Orange County jail and his passport has been confiscated.
He was arrested outside a bank where he had arranged to meet the girl, who turned out to be Deputy Matt Irwin, assigned by the Orange County sheriff's office to patrol the Internet looking for sex suspects. Investigators say Bailey admitted to having the conversation on the web.
A child advocacy group called K.I.D.S. wants all attraction employees to undergo criminal background checks.
President Michael Gibbons, who is a former prosecutor, said the Florida Department of Law Enforcement can supply a person's record within a few weeks at a cost of $15.
Bradley has no prior record and Disney officials had no comment on the arrest.

---
Catholic bishop caves in to sodomite pressure

San Francisco, CA -- Roman Catholic Archbishop William Levada has compromised the position of Catholic Charities of San Francisco on the subject of homosexual "domestic partners."
The city adopted a new ordinance stating that city funds may not go to charities which do not extend "spousal equivalence" benefits to unmarried "domestic partners" -- including homosexual partners.
After initially saying that such a move would violate the "moral teaching" of the Catholic Church and threatening a lawsuit, Levada altered that position. Catholic Charities receives $5 million per year from the city.
After a storm of protest, Levada announced the following "compromise" with the city: "An employee may designate a legally domiciled member of the employee's household as being eligible for spousal equivalence benefits."
The archdiocese spokesman, Tom Burke, said, "We aren't going to ask questions."

---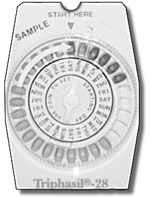 ACOG promotes chemical abortion as "emergency contraceptive"

Las Vegas, NV April 28 (UPI) -- "Emergency contraception" can cut the number of unintended births in the United States by nearly 2 million a year say the doctors at American College of Obstetrics (ACOG) and Gynecology. What they don't say is that this "emergency contraception" is really an assured chemical abortion by means of an extra-large dosage of the Pill.
At an annual meeting of ACOG in Las Vegas, the group's officials urged doctors to tell women that emergency oral "contraception" exists and can "prevent unwanted pregnancies."
The pills work to prevent implantation of a fertilized egg.
The researchers recommended women consult with their physician to determine the effective dosage, which varies according to the birth control pill.
Dr. Stanley Zinberg, director of practice activities for the Washington-based ACOG, says, "Emergency contraception could potentially reduce the number of unintended pregnancies by 1.7 million and cut the abortion rate by 800,000 per year in the United States."
Abortion foes claim that the ACOG is being deceptive in its claim that it will reduce abortions.
"It will increase chemical abortions," said one pro-life activist.

---
Arson closes Greensboro clinic

Greensboro, NC -- An arson fire on an April morning closed Greensboro's last remaining abortion clinic. This was the second intentionally set fire in six years in the building tucked behind a strip of fast-food restaurants at 2425 Randleman Road, near Interstate 40.
Firefighters were called to the clinic about 6:10 a.m. to find smoke pouring from the building.
None of the clinic's two full-time employees or 10 part-time employees had arrived at work yet.
Sam Jones, an arson investigator with the Greensboro Police Department, said that someone pried an opening.
Firefighters said they got the fire under control by 6:35 a.m., before flames had a chance to gut the building. Most of the damage was caused by smoke.
Police have made no arrests. Agents with the Federal Bureau of Investigation (FBI) and the federal Bureau of Alcohol, Tobacco and Firearms (BATF) are helping with the investigation, as they do after all crimes related to abortion clinics, police said.
Clinic owner Jean Goldston, standing outside the clinic the afternoon of the fire next to a pile of blackened debris, declined to talk about the fire. Goldston has owned the clinic since 1977 and said she plans to reopen it. She also owns the Arcadia Women's Medical Clinic in Winston-Salem.
Goldston's husband, Ed, said that abortion foes occasionally picket the clinic.
The fire was similar to the one that destroyed the same clinic on March 17, 1991. In that fire, someone broke a window and poured a flammable liquid inside the building.
A Greensboro man named Robert Hugh Farley Jr. pleaded guilty to the crime and served time in federal prison.
Piedmont-Carolina Medical Clinic was the only abortion clinic left in Greensboro after the closing last week of Options, a clinic on North Elm Street. Options' answering service said that the building's landlord refused to renew the clinic's lease.
Police said that evidence from the fire has been sent to the State Bureau of Investigation lab for analysis.

---
Police investigate illegal Irish abortions

Dublin IRELAND, -- Police said on May 20, that they were investigating new claims that abortions were carried out at a Dublin clinic in defiance of Ireland's Roman Catholic constitution, stoking the abortion debate ahead of Ireland's June 6 election.
Two women have made a complaint about illegal abortions at the central Dublin clinic, police said (Life Advocate, May 1997). They were already probing a claim by a woman in February that she was given a pregnancy termination in the clinic.
A group of protesters gathered outside the clinic holding placards with photographs of mutilated babies to demonstrate their opposition to any abortions in Ireland.
A spokesman for the clinic said the doctor at the center of the allegations denied the claims but would not work there again.
Abortion is one of the most divisive issues in Ireland, pitting the values of Catholic traditionalists against more liberal attitudes in the country's rapidly modernizing urban centers.
A 1992 referendum upheld abortion's illegal status under the constitution but a Supreme Court decision allowed abortion if a woman's life is threatened by her pregnancy.
Laws have also been eased to allow doctors to refer women to clinics overseas for abortions.
The debate has become an election issue after the main opposition Fianna Fail party pledged to hold a referendum on the Supreme Court ruling.
Anti-abortionists have been lobbying for a referendum to close all loopholes in the laws which forbid it.
The divide in Ireland between traditionalists and liberals was illustrated in last year's referendum on legalizing divorce. Those in favor of legalization won by a tiny minority after a bitter campaign which split the country.
Anti-divorce campaigners complained that all the main parties were in favor of legalization, and set up the traditionalist National Party to campaign for family values.
The party says it hopes to hold the balance of power in Ireland's parliament after the June election, and its support for any coalition government would be conditional on two policies -- a weekly wage of 100 Irish pounds ($150) for mothers working full-time in the home, and a referendum to tighten abortion laws.

---
Abortionist denied Catholic funeral in Poland

Warsaw, POLAND -- Poland's Roman Catholic Church refused to allow a funeral Mass to be said for a prominent doctor whose campaigning helped to liberalize the country's strict, church-sponsored abortion law.
Waclaw Dec, 66, a "practicing" Catholic and professor at the Medical Academy in Lodz, died in a car accident.
The church refused to allow a "religious funeral'' in his native city of Lodz because he advocated legalizing abortion, a position that contradicts church teachings, said the Andrzej Dabrowski a priest of the Lodz diocese.
"This is not a punishment. It is just a consequence of his views,'' Dabrowski said.
Dec strongly opposed the 1993 abortion law that permitted abortions only in cases of rape, danger to the mother's health or when the child was irreparably damaged. The law was replaced with fewer protections last year, after a change in government.

---
Abortionists on trial in Spain

Malaga, SPAIN -- A trial in which 34 people are accused of either conducting or taking part in illegal abortions was suspended an hour after it began when 15 of the defendants failed to show up.
One of the three presiding judges who agreed to the prosecutor's request for suspension of the trial said arrest warrants would be issued to ensure that all the defendants show up next time. A new trial date was not set.
Eight staff members of a clinic in this southern city, including two gynecologists, were arrested in 1986 along with 26 women clients for allegedly taking part in 44 abortions.
The prosecution has asked the court to sentence the employees to 21 years each and the women clients to six months each.
The case has been closely followed for the past 10 years by women's groups, who say the charges are a farce.
Since 1985, abortion has been legal in Spain only in cases of rape, incest or fetal malformation, or when the mother's life is in danger.
In June 1996, the ruling conservative Popular Party defeated a Socialist Party-led motion to debate a bill that would allow women to abort pregnancies in the first 12 weeks.

---
Polish court tosses liberalized abortion law

Warsaw, POLAND -- On May 28, a Polish court gave hope to the Roman Catholic Church and appalled many feminists by ruling that a law passed last year, effectively allowing abortion on demand, clashed with the constitution.
In a decision likely to delight Pope John Paul II on the eve of his May 31 to June 10 pilgrimage to his homeland, Poland's Constitutional Tribunal decided the liberalized abortion law did not uphold constitutional guarantees to the right to life.
"The Tribunal's decision is one of the happiest and most important pieces of news I have heard in recent months," Archbishop Tadeusz Goclowski said.
The ruling by the court, which tests whether laws conform with the constitution, obliges parliament to re-examine the new law on abortion within six months, during which time the current more liberal rules continue to apply.
To overturn the court decision would require a two-thirds majority in parliament and gaining this in the present legislature looks unlikely on the basis of last year's vote.
Elections are due in September and a powerful alliance around the pro-Catholic Solidarity union is rivaling the secular-minded ex-communists for the lead in opinion polls.
Restricting abortion, an issue over which Poles are split almost exactly 50-50, is a key platform of the Solidarity Election Action (AWS) which hopes to win power.
Among the court's objections to last year's amendment was a lack of clear criteria applying to a clause which allows women to terminate a pregnancy, until the 12th week, if they have difficult living conditions or other personal problems.
"There is a lack of precise, justified criteria allowing for a distinction according to developmental phases of human life. From the moment it arises, human life becomes a value which is protected under the constitution," Tribunal president Andrzej Zoll said, announcing the ruling.
Under the previous 1993 law, which could return if the Tribunal's ruling takes force, abortion was allowed only when a pregnancy posed a threat to a woman's life, resulted from incest or rape, or the child was irreparably damaged.
Under the law passed by a previous pro-Church cabinet in 1993, the number of officially registered abortions each year dropped to less than 1,000 from tens of thousands in the early 1990s when communist-era rules allowing easy abortion applied.

---
Moslem teachers say Islamic law prohibits euthanasia

Riyadh, SAUDI ARABIA -- Saudi Arabia's leading theologian has ruled that Islamic law forbids euthanasia.
Sheik Abdul-Aziz bin Baz said it is not permitted by Islamic law "to take the life of a person before death takes its natural course."
Bin Baz, head of the Council of Senior Islamic Scholars, issued his ruling at a meeting of senior Saudi Islamic scholars last month in the western city of Taif. Saudi Arabia is home to Islam's two holiest shrines and Bin Baz is highly influential.

---

Copyright © 1997 AFLM