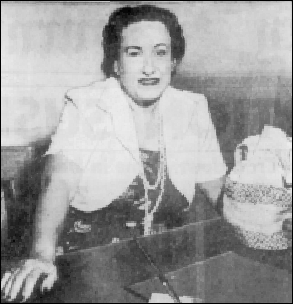 Getting Away With Murder -- Ruth Barnett and the Illegal Abortion Trade -- Part I
by Kerry Donaghue and Cathy Ramey


Over the years pro-abortionists and pro-lifers have often squared off over the history of abortion. Abortion zealots make shrill alternate claims; that women were dying in massive numbers as a result of having to carry their children to term, or that millions of desperate American women died from illegal abortions. Pro-lifers have consistently denounced the obviously inflated figures, and insist that the abortion rate only skyrocketed post-'73. But even pro-life guesstimates often fall short of reality when citing abortion figures in some cities. Their figures too are frequently not a clear reflection of the "demand" for and availability of services to rid women and society of unborn babies.

While the abortion history cited here may not be "typical" of the trade in murder in most areas, it certainly does represent many large cities in America. The reality that women bent on destroying their unborn children created quite a demand for those willing (for the right kind of money) to assist them is something that pro-life America needs to realize and reflect upon. If we are ever to see a return to justice, our eyes must be open to seeing it dispensed evenly. Our pre-Roe v. Wade abortion history has much to teach us. So, just how accessible were abortions in the pre-Roe v. Wade days?

Very much so, in at least some areas like Portland, Oregon, a city which in the 1940's, 50's and 60's became known as the "abortion capitol of the NW." And despite all of the rhetoric claiming that conditions were far worse in an abortionist's office than in a legitimate physician's office, there is abundant evidence to suggest that, in fact, the services and the surroundings were most often identical or better because of the stiff competition.

In an early biography which she co-authored with the help of a newspaper reporter, one abortionist, Ruth Barnett, claims to have performed abortions quite freely in the city for five decades. And she wasn't the only operator in town. At the same time that she plied her trade in blood, there were easily a dozen others, chiropractors, naturopaths, and MD's doing the same.

In They Weep on My Doorstep, her biography, she stated that a steady stream of women came to see her. If she is to be believed, sometimes up to fifty women a day. Newspaper accounts from at least one raid seem to support her claim to a steady and high volume of clients.

And the illegal abortion business was profitable too.

News articles record attempts by the federal government to get their piece of the pie, claiming that hundreds of thousands of dollars in back taxes were owed to Uncle Sam. In February of 1952 the IRS put a lien against Ruth Barnett's property. They calculated that she owed them, from her abortion trade, $1,163,255.43 in back taxes, fines and interest for the years 1945 through 1947. Barnett claims that from abortions alone she made as much as $182,000 a year during the 1940's, and $9 million total during her career. Her daughter, Margaret St. James, was quoted in an Oregonian newspaper article after her mother's death, saying that, together they "squandered $10-$15 million dollars. There were boxes of money sitting around the house," she recalled, since abortion was a cash only business. "My clothing account was about $5,000 a month." This was in the 1940's when economic collapse a decade earlier and the war in Europe made it difficult for most Americans to meet their most basic needs.

How "open" were the clinics?

"The duly elected officers of the law, members of the medical profession, and the state board all knew we were in business. Trying to conceal the clinic, or its purpose, would have been as impossible as hiding an elephant in the parlor," Barnett stated.

Even a former police detective, 76 year old Barney Shields, in a 1985 interview, recalled that until the early 1950's the Portland police "never bothered any abortion clinics. Everybody knew of them. . . and [Barnett] was considered as doing pretty good quality work as far as those people (abortionists) were concerned."

Her daughter Margaret recalled in the same newspaper feature that everybody knew that abortions were being done and who was doing them. Physicians, cab drivers, bartenders, and even elevator boys knew where to refer a woman "in trouble" with a baby she did not intend to keep.

Was it a "back alley" operation?

Not at all, at least not when it came to "Dr. Ruth" as she was known to clients and members of the vice squad. "A clinic such as mine was not that at all," she states in her book. "It was a bright, cheerful place, where women's problems were handled quickly, efficiently, and with dignity," as though the business of butchering babies was a wholesome or even legitimate medical practice. "The clinic was outfitted with marble sinks, gold-plated faucets, waiting rooms with oil paintings and Oriental rugs so beautiful that Dr. Ruth would have friends come in for lunch," according to her daughter. "Clients had tea" in what Margaret described as "a lovely recovering room." And one of the nurses would cook for them doing such a good job that friends and others would call her meals, "Barnett's Blue Plate Special."

But what of the 1864 Criminal Abortion Act which made abortion illegal in Oregon?

Barnett claimed, "the archaic statute," instituted less than thirty years before her own birth in 1891, "had never been considered." Indeed the authorities all seemed to look the other way, regarding her business as a "necessary evil."



"Ruth Barnett, The Abortionist Queen"


Ruth Barnett was clearly the most prominent abortionist in Oregon, and the most prominent female abortionist in the northwest. To legitimately be termed a "Doctor," she studied Naturopathy at Pacific States Chiropractic College and earned the title of a naturopath. It was to aid as a cloak in her "cover-up clinic" that supposedly only dealt with "diseases of women." In Ruth Barnett's mind, an unwanted pregnancy was a malady, and one that she took pleasure in relieving the patient of. And, of course, she was richly compensated in doing so.



Doing away with her own . . .
Ruth Barnett's first encounter with abortion was her own around the year 1908. She was just 16, and having quit school at Washington High the summer before, she had practically fallen into a job as a "dental assistant," or at least, "an assistant to a dentist." her social life was changing and she had many male admirers. One of these, a young man named Frank, three years her senior, won her affection and she wound up pregnant.

When Frank was made aware of this development, he was at first sympathetic, then resentful. She could do something about it, he said, but what that "something" was, or where it was to be got, he said, was for her to find out. How did he know that he was responsible anyway? She had been around with other guys. After this encounter she was never to see Frank again.

At this time Ruth was still living at home and somehow was able to conceal the pregnancy from her parents. She did not know the meaning of the word "abortion" or what it implied, yet she vaguely knew there were doctors in Portland who could do "something" for a fee. Who they were, what their fee would be, and not least of all, where she was to obtain the money, was unknown to her. All these things were revealed to her one day from a very reliable source a prostitute.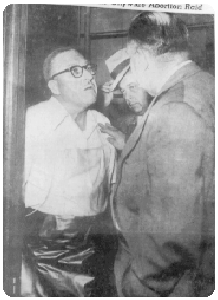 Jane Kelly was a patient at the dental office where Ruth worked. During one appointment she was engaged in discussing a current relationship when Ruth questioned, "What if you get pregnant?"

The prostitute, sensing that she asked this out of more than just casual curiosity, responded, "You poor chick," before going on to tell of her own experience when she was Ruth's age and how she was helped by an "old Dr. Watts." His office was downtown in The Oregonian building.

Despite the crisis she was in as an unmarried pregnant teenager, she avoided recording her own pain and shame in her biography. Instead, feelings for her child and the humiliation she put herself through were carefully ignored in favor of more acceptable events and activities.

Ruth went to inquire of Watts and records in her book that she found him "a charming man in his early fifties, with a gentle voice and a sympathetic manner." Ironically, despite the reality that murders were taking place within the rooms, what she described as "the antiseptic cleanliness and wholesome purity of his clinic" impressed her. Here she revealed to him what she hadn't dared reveal to anyone else. Watts agreed that he would help her, although she had waited almost too long. Of course she would have to come up with a fee. "Do you have, or can you come up with $85, by say, next Saturday?" Ruth indicated she would have the money and be in his office at 2 p.m. the following Saturday.

In 1908 it was tough getting that amount of money together, but, without revealing how, she managed it somehow. And looking back at her own abortion while writing to justify her involvement in killing other women's children, Ruth Barnett recalled the experience with an unreal rosy glow. The abortion procedure was performed "smoothly and painlessly," she insisted. Now, she would be able to be happy again, with the knowledge that her once terrifying "mistake" was now a closed book.

Though she kept the secret of her abortion to herself, she failed to see any harm done in the operation; only that one of mankind's man-made-laws had been thwarted, one that was, she felt, under certain circumstances, made to be broken. And apparently she refused to spend time thinking on any regrets she might have had about undertaking a plan that was intended to bring about the death of her own child. There is no doubt that the aborting of her child worked to Ruth's harm. The hardening process of her heart, if not already begun, was greatly furthered as a result. It is already supposed that she was a "loose" young woman, sleeping around and doing things that would have appalled her parents had they known of them. She mentions at the beginning of her biography that her parents attended church, something she had no interest in and said she would do almost anything to avoid. She rationalized her wild behavior, complaining that they, for their part, never seemed to be much interested in what she was doing or involved in either. When asked in later years if her pregnancy as a young girl had anything to do with her becoming an abortionist and making it her life's work, she admitted, "It had everything to do with it."

Less than a year after the death of her child, romance again came into Ruth's life and, partly to escape the job at the dental office, she married. Her employer, perhaps aware of Ruth's reputation as a promiscuous woman, had been making sexual advances towards her which had made the job troublesome.

Getting away with murder . . .
At this time, she met Dr. Alys Bixby Griff, a physician and surgeon of considerable prominence. She had been graduated from the Oregon Medical School in 1902 and was one of the earliest women physicians in the Northwest. Griff had begun by specializing in diseases of women, but so many were coming to her for abortions that she took less and less time for her legitimate medical practice. She befriended Ruth, now a mother with a little girl, and became to her an idol of sorts.

Not long after her marriage, Ruth and her husband moved to Seattle, but she made frequent visits to Portland to visit her family. In reality though, Ruth spent most of her time visiting Dr. Griff and watching her work. After work she and Griff would spend hours in her hotel room discussing abortion because, from the time of Ruth's own abortion, her interest in it had grown. To Ruth, again avoiding the reality of what was actually taking place, it seemed to be the most wonderful work in the world.

Looking back at her account in light of what she was really doing, one wonders what she could have found to be "wonderful." Obviously, there was the pay, and then there may have been the sordid thrill of breaking the law and getting away with murder. And too, Ruth was opposing the values of moral and religious society against whom she seemed to take an inordinate delight in scorning.

Not long after her introduction to the art of abortion, Ruth gave up on marriage and eventually sued for divorce. She and her daughter, Margaret, only about three years of age, moved back to Portland to live at her mother's home.




She needed work, and since the only experience she had was in dentistry, she decided to go to dental school, obtaining help to do so through her brother. Six months later she landed a job as a dental hygienist, employment that unfortunately lasted only briefly as the state's dentistry laws soon changed and required more education than she had. So, left without enough money to go back to school, and the help from her brother no longer available, again, she began a search for employment. And who should call at this time but Dr. Alys Bixby Griff, inviting her to dinner.

It had been three months since Griff had seen Ruth Barnett, and in that time business had increased to the point that she was very busy. World War I, having just ended, many women were facing unwanted pregnancies. Would Ruth come and work for her? Of course, she couldn't be of any help for some time, and she wouldn't be paid much . . .

According to Ruth Barnett, war had brought about a looseness in morals which she approved of, and the economy was beginning to improve.

"I don't care, I'll work for anything you say," she replied very obligingly. She confidently added, according to her biography, "I learn quickly," and thrusting her hands and palms up stated, "My hands are steady." Dr. Griff smiled and looked at Ruth's hands. She told her, "Suppose I pay you fifty a week to start." Ruth eagerly consented, saying, "Starting as of now!"

So, in 1918 Ruth Barnett began in earnest to learn the 'technique' of abortion. She also learned many other things such as what she referred to as the "sordid." Always avoiding painful reality, she did not specifically state what that meant although, undoubtedly images of torn limbs, crushed skulls, babies born in pieces, the anguish of women undergoing the procedure, and bodily injuries suffered by some of the clients must have qualified. Small insight into the moral and emotional qualms that Ruth Barnett may have had only came to light years later when Margaret St. James revealed that her mother had cried while performing an abortion on her in 1931.

At first, working with Dr. Griff, she was only permitted to prep patients. Gradually she assumed more responsibilities, eventually assisting in difficult cases and finishing cases altogether which Griff, because of nervousness, was not able to complete. This was a responsibility Ruth was glad to assume. She was to work for the abortionist for 11 years throughout the 1920's. The offices were located in the Lafayette Building at SW 6th and Washington, and both Ruth Barnett and Dr. Griff lived at the old Oregon Hotel in the heart of downtown Portland.

Ruth also developed a friendship with another notorious personality who lived in the hotel room next door. Dr. Marie Equi was a dedicated socialist and abortionist who also spent time in San Quentin for her anti-war (World War I) protestations. Margaret Sanger, famous Planned Parenthood founder, was a friend of Dr. Equi' and during this time became one of Ruth's friends too.

Dr. Equi, as well as being a neighbor at the hotel was also their office neighbor in the Lafayette building. They worked hard during the day, emptying wombs, and partied every night at the roadhouses. These were prohibition days, and they often made their own brew which they heartily enjoyed despite the bugs that often festered in the vats.

Ruth and Dr. Griff eventually had a parting of ways. More and more, the abortionist was leaving difficult cases to Ruth. One day, after blowing up at her and becoming hysterical over what Ruth Barnett records was a minor misunderstanding, Ruth quit and wanted nothing more to do with Dr. Griff.

She tried her hand at the beauty business by purchasing a salon, and found she had more male customers than women, and they wanted more than just a manicure. She grew sick of their advances, and gave the salon back just six months later.



A sick mind, combining aesthetics and murder . . .
At this point, Ruth Barnett decided to seek out the old abortionist, Watts, who had moved his office to the Broadway building. She had a friend who wanted an abortion to rid herself of a child, and Ruth was referring her to Dr. Watts. More importantly, Ruth needed work, her daughter was in boarding school, and a second marriage was on the rocks. Talking with Dr. Watts, she argued that he needed a nurse and a "woman's touch" at his clinic. Eventually, though it took some doing, he was persuaded. She left his office only after he agreed to hire her that day.

The first three years Ruth claimed to have had little to do with the actual abortions. Her most immediate work involved redecorating the drab place by painting, adding pictures, and making the doctor buy new furniture.

Her memoirs are replete with descriptions of life that are a contrast to the heinous work she was involved in. While much of her over-all employment was consumed with assisting in the killing of unborn people, listening to women cry, examining body parts, and stopping the flow of blood, Ruth remembered, almost as though in emotional denial of what she had done, that she decorated the office. And, in addition to providing a salve to Ruth's conscience, no doubt, the process of refinishing was an aid to gathering more customers.

After a time Watts began instructing her in the details of his own technique. Both his instruments (He had solid bronze instruments, custom made for him.) and his methods surpassed Dr. Griff's in efficiency. Ruth learned so quickly that it was at this time that Dr. Watts suggested she enroll in a college to earn a license as a naturopath. With this license she would be permitted to perform minor surgery where entry can be made through a natural body opening. This would also give her the right to practice as "Dr. Ruth Barnett." Watts prompting was for their mutual benefit. He recognized that he and Ruth had a shared philosophy about abortion. Also, he wanted to retire someday and it would be natural to leave the business in her hands. Ruth followed his suggestion, and, since study was easy for her, was soon finishing the courses necessary toward earning her license.

A mill of her own . . .
Dr. Watts was not the only abortionist in the building. Two others, Dr. Edgar Stewart, a long-time abortionist, and Dr. Maude Van Alstyne, a stocky woman of about sixty, occupied a small suite of offices down the hall. A month before graduation, Ruth heard of Van Alstyne's decision to retire and, bursting with confidence, she decided to make an offer to buy the clinic.

Van Alstyne was willing to sell to Ruth for the right price. She didn't want to sell to a man, she confided, as she did not trust male abortionists. Ruth offered her a two thousand down payment with the rest to be paid in installments, and the bid was accepted. She borrowed money from her receptionist and Dr. Watts, and the balance came out of her savings, so desperately did she want this clinic.

Finally, as ironic as it seems that she would be concerned about a legal issue when committing illegal abortions, she began to work to resolve another dilemma she did not yet have her license. While killing babies was no more legal than before, the license gave the appearance that her offices operated "by the book."

Ruth Barnett went to Dr. Watts again for help. Would he perform the abortions for her until she got her license? His offices were only down the hall from Van Alstyne's, and she could send her clients to him to do the actual procedure. He complied and a jubilant Ruth signed the papers and handed Van Alstyne the money.

Not long afterwards, Watts also began to talk of wanting to retire from his Portland practice. A man from Los Angeles, Reg Rankin, had persuaded Watts to come and work for him. Rankin owned several abortion mills in Los Angeles which were very busy. He proposed to open up a chain of mills across the country. He also approached Ruth with an offer to come down to LA and work for him because he had heard she had such a "fine touch," but she refused. She claimed not to like him because he was a "glib talker and too money-oriented," but in reality, Ruth was on her way to make a fortune for herself.

A much older, larger, and elaborate clinic owned by Dr. Edgar Stewart occupied the floor above Ruth's, and was regarded as the cream of the abortion crop on the West Coast. Ruth Barnett and Dr. Stewart were friendly, and she claimed there was no competitive spirit since there was plenty of work for both of them. "I loved it," she rhapsodized with a fairy-tale outlook on all of the human misery she was involved in during those years at her first clinic. "I was young and healthy. I liked the income, naturally, but most of all, I liked what I was doing. In spite of my patients tears and anguish, I toiled in a happy climate, because here, in my surgery, came the end of tears and anguish."

After Watts was established in LA, Ruth went to visit him where she described the client load as "staggering." The Rankin plan for establishing a chain of abortion mills was progressing famously. A number of abortionists had been trained and other branches were being opened in other cities. Rankin again offered Ruth a place at one of his mills, but she considered running her own clinic too lucrative an experience to be given up lightly.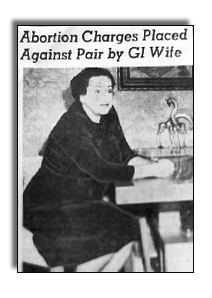 The Rankin clinics overlooked nothing in the way of confidentiality (to protect themselves) and convenience of payment for the client they even opened a loan office. Ten years later, during the early 1940's, the Fed.'s cracked down. They had made too much money and were vulnerable on too many points, so the IRS moved in and closed them. Rankin, Dr. Watts, and a number of others were sent to San Quentin where Watts died not long after his arrival. At his graveside, Dr. Ruth says she felt a presentiment that she too would soon become a victim of what she called, "unreasoning prejudice."

Back at her clinic, Ruth had to build up her own clientele. She charged according to a sliding scale depending on how far along the client was, and assessed her fees more generously for the rich. It was strictly a cash business. She balanced income against overhead daily, and too much charity would not pay her operating costs. Even her own daughter, as a school-child, figured tightly into her budget. During her childhood years, Margaret Barnett was known as "Buck-A-Day Annie" because she would drop in at her mother's mill each day after school and be given money to go off and amuse herself somewhere, usually at a show.

Where it all began . . .
The first abortionist in Portland was a Dr. Littlefield who began his practice in 1890 in an office above a hardware store on Front St. His practice was continued by Dr. Edgar Stewart, who Ruth Barnett stated, brought "distinction" to it. Heretofore, his reputation as a legitimate doctor had made him accessible to female clients willing to succumb to the temptation to be rid of an unwanted child. The abortion trade begun by Dr. Littlefield and continued by Dr. Stewart went on completely undisturbed for over sixty years.

Dr. Stewart was an associate of Dr. Watts who had taught Stewart his specialized techniques. Ruth was introduced to Stewart by Watts.

Edgar Stewart was, by Ruth Barnett's definition, "brilliant." She characterized him as having a reputation among medical professionals for being an accomplished surgeon. Like Watts, he had interspersed his general practice with occasional abortions for what he considered to be "humanitarian reasons." Abortions eventually absorbed all of his time and he never regretted it. It afforded him the money he wanted to dabble into other enterprises. He owned racing stables, as did Ruth, and played an important role in making horse racing a profitable activity in Oregon. His "humanitarian reasons" became indissolubly linked with money. One day, Dr. Ruth and Dr. Stewart met in the elevator of their building as they often did, and Stewart came right to the point. He offered her his clinic. She had noticed lately that his health was declining, and her observations were verified when he complained that he was being forced to retire due to a heart ailment. He and Ruth shared the same lack of values, the same corrupt purpose, the same warped view of their work, that is, that all the beliefs against abortion, for whatever reason, bothered them little compared to the appreciation, and chiefly the profits, they received from hundreds of women, their husbands, and their lovers, whom they had "helped." He considered his clinic the finest in the U.S. and was proud of it. Going out of business, he felt, would prove a hardship on his patients as well as his friends in the medical profession. Thus, he wanted to turn the clinic over to Dr. Ruth.

Ruth Barnett claims to have felt somewhat overcome at the proposition knowing that he had quite a clientele, and for the first time in her life she wondered if she was equal to the task. Stewart reassured her by saying that he had given it careful thought. Although there were two other abortionists in the country available to sell the clinic to, he felt sure his clinic could continue to thrive only if "Ruthless Ruth," as she was often called, took it over.

Ruth Barnett states in her book that Dr. Stewart told her that he, like Van Alstyne before him, did not like males dominating the abortion business either. To sway her further, he reasoned that he believed that in a time of stress, "a woman turns to a woman."

Though Ruth never revealed the exact amount, the price she paid for the "Stewart Clinic" was, she wrote, a solid, round figure, a lot of money, but all things considered, a bargain for a profitable practice.

The "Stewart Clinic," took up nearly the whole eleventh floor of the Broadway Building, and had eleven rooms and a hidden apartment, all of which were, in her opinion, beautifully furnished. A news story following a raid just a few years later would describe the clinic as "lavishly furnished" with very heavy beautiful wood pieces and thick oriental carpeting. Again, it is as though Ruth Barnett's surroundings offered her an escape. It gave at least Ruth the perception that she was a society dame whose primary interest lay in what color chintz to cover the waiting chairs with. The drab and sordid side of killing had to be avoided.

Ruth decided to keep the name, "Stewart Clinic" on her doors because Edgar Stewart had a reputation. His name was well known throughout the Northwest wherever there was someone willing to pay for his services. It was also easier for her to work under the appearance that the clinic was owned by a man. Many women who came to see her never realized that she actually owned the place. Their confidence was somehow greater when they believed that the usual male doctor was providing oversight.



Pay up or go to prison . . .
She acquired the clinic in 1945, made loads of money during the post-war years, and without apology claimed she worked hard and had earned it, especially considering the risks which she took in order to perform her business.

In reality, for much of the time she was committing abortions, the risks were greatly minimized. As far as the authorities were concerned, there was "an unwritten agreement" between them, as Ruth stated, "that as long as no one complained," they would leave her alone. The real risk was the threat of someone taking action against her when complications arose. But even with complications, it was the extremely rare woman who would complain and expose her own illegal involvement in procuring "services" to destroy her child. And last, there were, in her mind, still those snobbish elements in both places of authority and in society who, she felt, hated her and her practice. Her fears, which began to be felt at abortionist Watts' graveside, were well founded. She was eventually exposed and forced to shut down her mill six years later. On July 6, 1951, Ruth's world "fell apart," or at least became more complicated, as she began a career of woes in and out of the judicial system.

It is amazing that during all those years with Griff, Watts, and now her own clinic, she continued her practice with virtually no complaints, but it must be understood that the threat of legal consequences to any client willing to pursue her was no small thing, and then there was the social shame and the woman's own sexual habits and physical involvement with the abortion which would be aired in the courts and in the media. Even so, Watts had ended up in San Quentin where he died reaping the bitter fruits of his labor. Griff, from all accounts, died in obscurity, a mental case, an embittered woman. Now Ruth too would have some accounting to do. Yet, for all her accounting, she would get off comparatively easy, until she succumbed to the dreaded disease of cancer later in her life.

The crackdown happened in this way; a young client, aged 17, by the name of Ann Kelly, had come to Ruth with her mother for an abortion. She had been raped, so the story went, by a cousin who had fled to another state to escape the consequences. After relating their woeful case to Ruth, and also informing her that they had very little to pay for her services, she suggested they go to after the miscreant cousin for his fair share of the payment for the procedure.

Ruth consented to perform the abortion, but only after getting an agreement from the family that they would pay for it somehow. That "somehow" was out of the family's sparse savings. Later the girl developed a bad infection from the abortion, and the family, being duly upset both by the infection and the cost of the procedure, went to the DA's office to seek his help. In reality, they were motivated more out of a desire to pursue the cousin who had fathered the child and make him "pay his part" than to expose Ruth Barnett. They found the DA unwilling to seek the cousin, maintaining that his office was not a collection agency. However, he was very interested in where the girl had obtained the abortion.

So, under threat of compounding a felony, the Kelly's disclosed their information concerning "Dr. Ruth" what she had done for them, the resulting infection, and the high prices she charged. The Kelly's signed written statements which were then given to the Oregon State Medical Board and the Multnomah County DA's office. Finally each of them had to appear before a Grand Jury where a secret indictment was handed down on Dr. Ruth Barnett. All of this leaked out in small portions through the media and the political arena for three months previous to the crack-down.

Despite the fact there were rumors before the crackdown Ruth had her contacts in high places who assured her that the old faithful understanding of "no [maternal] death, no prosecution" would still be honored. With no qualms, Ruth and her third husband, Earl Bush, spent a long weekend at their cattle ranch in Eastern Oregon leaving another abortionist and two nurses in charge.

Raid!
On Friday, July 6, 1951 sixteen police officers stormed into the clinic without a warrant. At least two young girls who were in the waiting room screamed, and one, a high school student, bolted through the door and out of the building only to run into the arms of another police officer. They gathered evidence, looking into each room, and in one found eight curtained cubicles, each with an unclad woman in it waiting to see the doctor. In another room they found a woman recovering from the abortion procedure. She was transferred to a county hospital, and officers arrested the three on duty.

Throughout the search they entered rooms, opened drawers and cabinets, and looked into closets. A newspaper story, only one day after the raid, would report that "In their search of the premises of the Stewart Clinic, police found two compartments concealed behind paneling in the walls. These held instruments of a type frequently used in abortions." Beyond looking for instruments and the remains of aborted babies, they specifically looked for files which would give them names of clients and the doctors who referred them.

Dr. Barnett's clinic wasn't the only one raided that day. At the office of a Dr. Dewey, a chiropractor, the nurse watched while Kenneth Dewey was being wrestled into custody by police. She picked up a screwdriver and through it at one of those holding him to the wall. At yet another mill the abortionist was found to be in the middle of aborting a baby. Detectives, unsure how to handle the situation, allowed him to complete the procedure before taking him into custody.

In all that day there were a total of 11 persons arrested, all accused with "grossly disturbing public morals and decency" and "manslaughter by abortion." The maximum sentence for "manslaughter by abortion" was fifteen years imprisonment and a $10,000 fine. "Grossly disturbing public morals and decency" carried a $500 fine or 180 days in jail.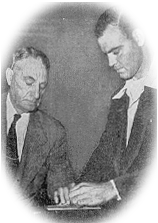 Immediately after the raid, as soon as it became public knowledge that police had netted many of Portland's abortionists, a newspaper account recorded that the telephone lines at the DA's office were jammed. Among the usual calls from bail bondsmen and reporters, there was a flood of calls from members of the medical profession, all congratulating the DA for the success of the raid.

One person arrested later because he was out of town was a Dr. H.R. Dewey, uncle and partner to abortionist Kenneth Dewey. He complained in court and to the media that he had been cracked down on only because he failed to pay-off two Portland police officers who had bribed him the summer before. This led to an investigation in which the two officers were eventually tried in court, but, lacking any hard evidence, and stacking the word of policemen against an abortionist resulted in their acquittal. Years later, in writing her biography, Ruth Barnett would alternately brag and complain about similar types of extortion on the part of police authorities.

Dr. Dewey, after his criminal trial, was sentenced to prison. Even behind bars he continued to claim an associate of his did pay off the two officers and was not closed down.

When Ruth's daughter contacted her out at the ranch about the raid she was greatly shaken but decided to turn herself in. She would not give them the advantage of thinking they had corralled her, so she and her husband purposefully took the long way home, driving up to Washington State and then down through Vancouver. Along the way they purchased a paper only to find Ruth's name spread across the front page. It was worse than she had imagined, she was being eagerly sought. Instead of creeping home in obscurity, Ruth phoned her friends at The Oregonian. Always acting the part of the benevolent victim, she played to the media claiming, she couldn't understand why her life's work should be vilified and smeared. She had always believed in the woman's right to abortion if deemed necessary. The laws against abortion were archaic, and anachronism, something that should be thrown in the dust bin of history. Why was she being persecuted like this?

She recorded later in her book that she vaguely supposed the raids were happening because it was an election year with several Catholics running for office. After all, Catholics were the ones who were to blame for the abortion laws not being repealed, so she claimed. But according to the newspaper reporter, Rolla M. Crick, whose 3 month investigation brought about the raids, the investigations resulted out of a "concern for the women"; a need to protect them against themselves.

Police authorities as well as Crick knew that Ruth had caused a number of cases of peritonitis, and a lot of women were ending up unable to have any more children after their abortions. Despite their own participation in asking Dr. Ruth to destroy their unborn children, there was growing resentment both from the women and from the medical community involved in treating for problems that arose after the procedure. Though it is clear that the larger medical community worked hand-in-glove with those engaged in killing, this resentment is, once again, contrary to the rosy glow with which Ruth Barnett often reflected when she referred to her relationship with other medical and naturopathic practitioners.

In the process of her arrest, Ruth too had a story to tell about pay-offs to the authorities. Prior to the raid, she claimed she had been approached by a woman, an old acquaintance from her husband's hometown, who claimed to be an emissary for four different parties. The group she represented, she claimed, consisted of an investigator for the DA's office, a police detective, a state medical board inspector, and a newspaper reporter. Ruth was promised the raid would be stopped if she handed over $10,000. The emissary would personally receive $3,000, and the rest would buy "evidence" the evidence that was to be used against Dr. Barnett which, heretofore, she had been ignorant of.

Ruth refused to pay off the bribe. But after the raid, reflecting on this, her husband remarked, "Maybe blackmail's a good investment," and Ruth wished she had taken more seriously the woman and her offer. Ruth's daughter had contacted her attorney and he was waiting when she arrived at the courthouse to turn herself in. It was Saturday, usually a quiet day, but news soon spread of her arrival and the courthouse filled with people, mainly reporters and photographers. As the cameras recorded the scene for the newspapers, they depicted a smiling, almost laughing Ruth Barnett.

To her the entire situation was, in her own words, "a joke."

The deputy DA reproved her for smiling, telling her that her situation was no laughing matter; that the charges were very serious. All Ruth would say was, "I know," and she kept smiling. Knowing she had "friends in high places," perhaps she assumed she would get off easy. At any rate, an hour and a half later Ruth was out on $1,500 bail.

She went directly to the clinic, where her doctor and two nurses awaited her after having been bailed out the evening before. They went through the details of the raid and, since no formal warrant had been served, she decided to get the best legal help she could and indict the authorities for unlawful search and seizure. Also, she needed legal advice for herself. But the only lawyer she was able to obtain was young and inexperienced. And the only advice he gave at first was to close the mill, keep the doors locked, and break off all associations with potential clients and referring physicians.

Ruth was shocked. How could she sever these relationships and the income she had spent a lifetime building?

Next month, Part 2 of, Getting away with murder.
The age of "open" illegal abortion draws to a
close with more raids, but Barnett and others
respond by doing "the back alley thing."


&copy 1997 Advocates for Life Ministries
---