November/December, 1997 Volume XII Number 9




The Eighth Promise . . .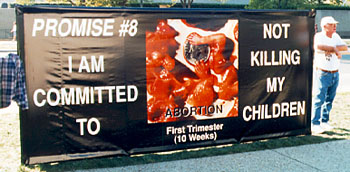 It is only natural to suppose that an event the size of the Promise Keepers' Stand in the Gap gathering would draw others to piggyback on their agenda. So it was with the Center for Bio Ethical Reform.
The Center and its founder, Gregg Cunningham, are known widely for the production and distribution of the anti-abortion film, Hard Truth. Cunningham believes in using hard truth to activate people against abortion.
It was, therefore, not surprising to see 24 banners -- each measuring about six by 13 feet and borne by two stout men -- depicting aborted babies. The professionally produced vinyl banners were held on aluminum pipe frames with an extended pipe section, covered with padding, at each end for carrying.
Some of the signs contained Holocaust and slavery comparisons by showing murdered Jews and black men hanging by nooses. "Ungentile, unwhite, unborn," one read.
The most pointed for this event, however, was a dead baby photo with the huge caption, "Promise #8 I am committed to not killing my children."
Each of the sign bearers wore an official Promise Keepers T-shirt with the added legend, "Thank God for PK." They carried and passed out explanatory cards stating that their purpose was not condemnation of the gathered men but education.
Taking the cue from the Stand in the Gap language of Promise Keepers, the group proclaimed that they were GAP -- the Genocide Awareness Project.
The response by Promise Keepers were overwhelmingly positive noted David Lee, one of the Project organizers.
So effective were the banners that an East-coast pro-life leader offered to buy six of them on the spot.
Cunningham said that he stationed a Holocaust/slavery/abortion comparison banner near a subway exit by the Washington Monument. As men came out of the subway, they were jocular until they spotted the banner. Many came over to pray.
"They suddenly remembered why they were here," Cunningham said.
Cunningham plans to bring the banners to a Billy Graham crusade in Wichita, Kansas in late October.
"We're going to keep refining the messages and take them to a lot of places like the national American Medical Association convention," Cunningham explained.
Pro-life organizations interested in obtaining similar signs are urged to contact the Genocide Awareness Project, 2250 North Rock Rd. #118-230, Wichita, KS 67226, (316) 683-4621. GAP representatives say that production of the banners has been about $1,000 per sign.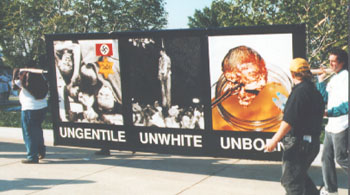 ---

Copyright © 1997 AFLM