March/April, 1998 Volume XII Number 11


Charges dropped against Oregon man who destroyed child porn
by Paul deParrie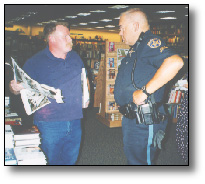 Beaverton, OR -- Kelly Keith was angry when he first heard about it. He was angrier when he actually saw it. "It" was child pornography being sold in the mainstream, "family" bookstores of Barnes & Noble and their sister company, Borders Books and Music.
The news first came to Keith, a steamfitter and congressional candidate, last summer through Randall Terry, founder of Operation Rescue and also a candidate for U.S. Congress, that the bookstores were selling books of the photographic works of Jock Sturges, David Hamilton, and Sally Mann. These "artists" specialize in photographs of nude children, some in lewd or erotic poses or situations.
On September 6, in conjunction with nationwide protests called "tear-ups" organized by Terry, Keith went from store to store beginning in Salem and ending in the Portland area tearing up the available copies of the books.
On apparent corporate orders, stores refused to have Keith arrested. Some called police but only asked that Keith be escorted from the property.
Each time, Keith showed police officers the books and asked that they be confiscated and that the bookstore face child pornography charges. The police and prosecutors refused.
After visiting eight stores, Keith had destroyed $450 worth of the books.
Finally, Julie Dondanville of the Beaverton store had Keith arrested for trespassing and criminal mischief. When the Beaverton City Prosecutor, Tim Kempton, charged Keith, he faced over a year in jail and $6,000 in fines.
"Pictures like the ones I tore out are child pornography under both state and federal law," said Keith, who supplied copies of the laws. "Also, openly displaying these books where children can see them is an additional crime. But apparently Mr. Kempton was more interested in prosecuting me than 'respectable' child pornographers."
Keith sought legal assistance from Randall Terry and several Christian public interest law associations for his defense, but was met with a wall of silence. He elected to represent himself pro se.
Keith made a long list of "discovery" requests to Kempton which were refused. When Keith petitioned the court to enforce discovery, the court agreed. Shortly afterwards, Kempton filed a motion to dismiss the case against Keith. The motion was supported by a letter from Borders' parent company asking that the prosecution be stopped.
But this angered Keith and he filed an objection and asked the court to allow the case to proceed to trial. He speculated that Barnes & Noble fears a public trial where their child pornography sales will become national news. On the September 6 national "tear-up" few arrests were made and all charges were eventually dropped.
In addition, Keith was convinced that Kempton was avoiding adverse publicity by dodging the trial.
On January 5, Judge Peter Ackerman dismissed the charges. "I think the prosecutor should be ashamed of himself for such a frivolous prosecution on the behalf of child pornographers," said Keith. "I deserved a jury acquittal."


---
OTHER IN THE NATION ARTICALS
Silver Anniversary of Death
Blast rocks Birmingham abortuary; 1 killed, 1 injured
Charges dropped against Oregon man who destoryed child porn
FL sheriff calls abortion doctor "baby killer"
"Moon" rises over pro-life protest
Doctor's anti-abortion sign violates township ordinances, authorities say
---