March/April, 1998 Volume XII Number 11


FL sheriff calls abortion doctor 'baby killer'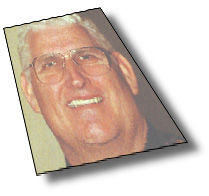 Ft. Myers, FL -- An abortionist who wrote to the sheriff for help against anti-abortion demonstrators was instead branded a "baby killer" and told that law officers would "do everything within our power to assist the protesters."
Lee County Sheriff John McDougall, whose blunt comments have generated controversy in the past, defended his reply to abortionist Ali Azima.
"Sometimes you have to take a stand. Everybody's worried about the manatees and endangered species, but it's like to hell with the babies," McDougall said.
The exchange of letters began in December when Azima wrote the Charlotte County sheriff's office about a prayer vigil held outside a clinic he runs in Port Charlotte. Azima also sent a copy of the letter to McDougall because his North Fort Myers clinic is also a protest target. In his letter, Azima said: "If I am called `baby killer,' I would like to know which baby I have killed importantly to question the neglect of your department that is not prosecuting someone for killing a baby!"
McDougall replied that the only thing preventing him from being prosecuted for "killing babies" was the U.S. Supreme Court's legalization of "baby killing."
Azima also charged that the protesters were "stalking" him and his wife -- though his only evidence was the fact that the same people had picketed his offices on more than one occasion. He said that the protester's activity of telling them that Jesus loved them and that they "have to" repent was a threat. Sheriff's deputies called to the abortuary prior to the letters told Azima that the protesters were within their rights.
In his certified letter on official stationery, McDougall responded that he would carry out his constitutional duty to protect all citizens from illegal protests and activity -- "even a baby killer like yourself." McDougall stated that he would "protect the rights of all persons who wish to exercise in a lawful manner their first amendment right of free speech." (Emphasis in the original)
Still, he said his office would "do everything within our power to assist the protesters who wish to protect the misguided mothers who come to your clinic of death."
Kim Gandy, executive vice president of the National Organization for Women, called the sheriff's response "scary."
"In a state that has seen two doctors and one clinic escort murdered in cold blood, it is chilling that a chief law enforcement officer would engage in this kind of dangerous rhetoric," she said.
The three slayings took place outside two clinics in Pensacola in 1993 and 1994.
Azima's attorney, Darol H.M. Carr, said the letter raises questions about McDougall's willingness to enforce restrictions on protests at clinics even though McDougall clearly stated that he would only protect protests done "in a lawful manner."
"I'd read it to say the word 'assist' means just that -- he plans to assist these protesters," Carr said. "It certainly would seem like he's extending his powers unequally."
Azima said in a statement: "It is inconceivable that he believes his official capacity is anything other than to enforce the laws of the United States." McDougall caused an uproar last year when he warned visitors to stay away from Florida because the release of a batch of violent felons made the state a dangerous place.


---
OTHER IN THE NATION ARTICALS
Silver Anniversary of Death
Blast rocks Birmingham abortuary; 1 killed, 1 injured
Charges dropped against Oregon man who destoryed child porn
FL sheriff calls abortion doctor "baby killer"
"Moon" rises over pro-life protest
Doctor's anti-abortion sign violates township ordinances, authorities say
---