May/June, 1999 Volume XIII Number 6
Rescue lives -- in Ireland
Irish and American anti-abortionists block Dublin clinics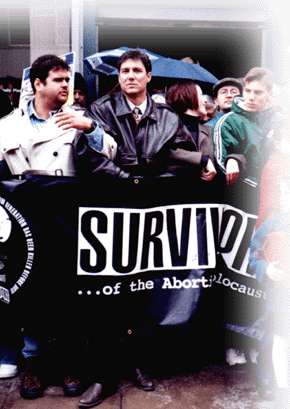 Dublin, IRELAND -- Friday, March 5 was the seventh anniversary of the Baby X Case --Ireland's Roe v. Wade. Although the courts have provided this legal precedent for abortions to be performed within the Republic of Ireland, public opinion has prevented needed approval by the legislature. As a result of the Baby X Case, a 1992 ruling by Ireland's Supreme Court held that abortion is constitutionally permissible in cases of danger to a mother's life. But there are no legal centers for abortions in Ireland and no legal exception in cases of rape or incest. About 5,000 Irish women go to Britain each year for abortions. In the 1992 referendum, voters rejected a proposed revision of the abortion law, some feeling the proposal was too liberal, some saying it was too restrictive.
At this time women are legally allowed to seek abortion counseling within the Republic, and may travel outside the country to obtain abortions. Two abortion referral clinics exist in Dublin, both are owned by an abortion business in England.
On March 5, in cooperation with Youth Defence, 36 Americans blocked the front and side-door access to the Marie Stopes Clinic.
Youth Defence is the only anti-abortion activist group in Ireland.
Their spokesman Una Nic Mhathuna said, "We have invited Americans to Ireland to commemorate the Baby X Case, and to boost morale for both Irish and American pro-lifers."
John Heaney of Dublin said, "We have sent people into this clinic before, pretending they need abortions and they have been misled about the condition of their baby. We are going to close this place down."
Six Garda -- Irish National Police -- on hand at the demonstration attempted to bring one woman into the clinic, but the demonstrators refused to move.

An hour later the clinic staff-person left, the doors were locked, and the Garda left. No one was arrested.
Joan Andrews Bell, viewed by many as the founder of the American rescue movement, participated in the blockade and spoke with two women seeking abortions who were turned away.
"As a result of this morning's demonstration, the workers closed the clinic and went home for the day without seeing any appointments," Bell said.
On the following day the Americans were joined by nearly 300 Irish anti-abortionists in blockading the only other abortion referral site in Dublin.
Eighteen Americans went inside the lobby and waiting rooms of the clinic, while 18 Americans and hundreds of Irish anti-abortionists blocked the front of the building singing and chanting slogans such as "O'Brien [the clinic director] has no right---to sacrifice a life---abortion is---murder!"
Inside the clinic, Barbara from Massachusetts pled with the five clinic staff, "We can get you a better job, you don't have to do this. How can you in your right mind participate in this? Please let us help you."
The occupation happened Saturday, and within days a judge extended indefinitely an order prohibiting the rescuers, including the leader of the American group, from picketing or trespassing at the Irish Family Planning Association office in the center of the city, which does not perform abortions. The groups were not represented in court and the prohibition, first granted on March 1, was ordered for an indefinite period.
Patrick Mahoney, director of Christian Defense Coalition from Washington D.C., also inside the clinic, explained to the clinic staff, "If any of you want to, you are free to go, we just want you to know that, you are free to go anytime."

Jeff White, of Operation Rescue California, greeted the Garda as they arrived and arranged for them to speak with Mahoney.
After an hour of negotiation with police, the clinic staff and inside-protesters left the building and locked the door. An hour after the staff left, the demonstration concluded.
Thirty minutes later an Irish anti-abortion counselor reported to Mahoney that the clinic was again open. Immediately the restaurant emptied of nearly sixty anti-abortionists that walked three blocks back to the clinic and walked directly into the clinic.
When the Garda returned, they found the clinic packed wall-to-wall with American and Irish anti-abortionists singing "Keep Your Eyes on the Prize," and more anti-abortionists coming to stand in front of the clinic.
During the blockade this reporter was inside the clinic taking photographs and audio-recordings. A Garda officer demanded that I give him my camera or be arrested. When I refused he took me into custody momentarily but did not arrest me.
Troy Newman, Director of Operation Rescue West, stated from inside the clinic, "We made a mistake. We should have never left. We won't leave again until the end of the business day."
The blockade continued until 6 p.m., and no arrests were made.
At a rally between the two protests, Joan Andrews Bell and Mahoney encouraged anti-abortionists.
Mahoney told those at the rally, "We have come here to make sure that innocent children are never killed through the horror of abortion on Irish soil. That is our goal. That is why 36 Americans have come. But we come with our hands covered with the blood of 38 million children. We do not come to tell you what to do. You have withstood the culture of death. We have not. In America we did not speak out quickly enough. But today on the streets of Dublin we are sending a message to the Irish government--that as American and Irish citizens we will not tolerate the killing of innocent children in Ireland!"