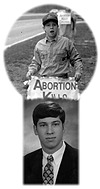 Please join with us as the family of God in mourning the deaths of three of His saints who exist now only to be rewarded by Him with eternal life.
On May 15, 1999, Micah Giles stopped by a local abortion facility to encourage his mother who was sidewalk counseling there. Over the years he had picketed, marched, and rescued with her and watched as his father, a man with a passion for politics, held firm to his faith in Christ.
On October 14, 1998, Micah Giles wrote about being "changed forever" in an essay about his journey to faith in Christ, one which took him from childhood through rebellious teen years to a final, binding commitment to Jesus Christ. He was a faithful son who grew to understand the love his parents and his Father had for him.
When he stopped to say "hello" to Deborah Giles the morning of May 15, neither of them realized that a faithful God was giving him the opportunity to say "goodbye." Micah was killed in an automobile accident later that day, less than a month short of his twentieth birthday.
Until such time that the Lord reunites them, Micah has left behind many family members and friends who grieve but are grateful for the time the Lord allowed them to have with Micah.
According to his mother Deborah Giles, "The Lord is powerfully using his death to win souls and bring others back to priorities."
Because of Micah, "I was able to share my faith with the [abortion] clinic staff just this morning."

David and Ann Drye of Charlotte, N.C., died Monday, June 14 in a plane crash near Concord. David and Ann were rescuers of the Unborn and faithful stewards of all God had given them. He started the Church of Concord in his home, built his own Bible-based private school and started the David Drye Co.
David and Ann were prominent people who triggered controversy because of their Christian faith; they fought against abortion, criticized Washington politicians, opposed public school bonds and stood up for prayer in public schools.
Drye said a "cultural war" threatened to split America, with "people who have a biblical world view and those who have an unbiblical world view."
Concord Mayor George Liles said he admired Drye for standing up for what he believed.
"Even though we had our differences, we had a cordial relationship," Liles said. "It's a terrible shock to all of us to have a tragedy like this to happen.
"I've known him for a long time, and he's been an outstanding businessman and developer. . . . I'm most impressed with his commitment to his family and his church.
"Certainly we always knew where he stood on every issue," Liles said. "You had to respect him for never varying from his beliefs."
Joe Washburn, a rescuer who spent time in a holding cell with David Drye recalls, "There were eleven of us sitting in a cell after a rescue. We started talking, and come to find out, eight of the men had undergone a vasectomy. The others of us were still single.
"We started talking about the irony of being pro-life and having a vasectomy, and David just started to weep. Afterwards he said he repented and had it reversed. He and Ann had four more children. They lived out what they believed."
Arne Fennel, a Cabarrus County commissioner and a longtime friend, said Drye wanted to be involved in a lot of things, and never shied from controversy.
"David would never back down from his Christian values. He would never back down from the gospel of Jesus Christ."
Fennel said the Dryes, who eloped when they were in high school, were both about 56 years old. They are survived by eight children, four of whom still live at home.
For those who remain:
"Oh, Lord, be gracious to us; we long for you. Be our strength every morning, our salvation in times of distress."
Isaiah 33:2