November/December, 1998 Volume XIII Number 3



NC clinics see fires; bombs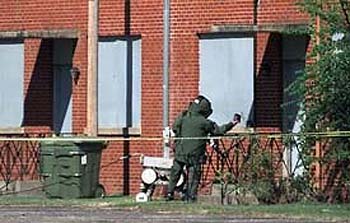 A bomb disposal expert using a robot approaches the Hallmark Clinic.

Fayetteville, NC - Fires early on September 8 at two Fayetteville abortion clinics were intentionally set and probably connected, police said. Then bombs were found on the morning of October 3 at same two Fayetteville abortion clinics that were burned the previous month by an arsonist.
The back entrance to the Carolina Women's Clinic was damaged from the fire and a fire at Hallmark Clinic then burned a hole through the roof and ignited a wall inside the clinic.
Agents from the federal Bureau of Alcohol, Tobacco and Firearms (BATF) were called in to help with both investigations.
Firefighters responded about 1:10 a.m. on September 8 to a fire at Carolina Women's Medical Clinic at 1919 Gillespie Street. About 2 1/2 miles away, someone passing Hallmark Clinic, 710 E. Russell Street, about 1:30 a.m. saw smoke coming from the roof and called the fire department.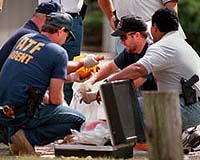 BATF agents tear open sticks of dynamite at the Carolina Women's Clinic on Gillespie Street in Rayetteville. An explosive device was also left at the Hallmark clinic on East Russel Street ion Fayetteville.
Cumberland County Sheriff Moose Butler said something had been thrown or put at the back door of Carolina clinic, causing about $2,500 damage to the door and siding. Arson investigators followed a trail of evidence that led to the parking lot, Butler said, but he declined to say what was found.
At Hallmark, someone climbed a ladder to the roof and left a device, Fayetteville Police Sergeant Roberto Rivera said. The ladder was left at the building.
Although Carolina clinic's fire was reported first, Sheriff's Department Chief Deputy Cuyler Windham said he thinks the Hallmark Clinic fire was started first.
On October 3, Police said that bombs, each consisting of multiple sticks of dynamite with a detonator and a timing device, were found outside Carolina Women's Medical and at Hallmark abortuaries.
About 9:05 a.m., a ticking noise got the attention of construction workers near the Hallmark Clinic. Glenn Haire, who works for Superior Lot Clearing, and about 14 other men were preparing to pour concrete at a BP gas station when someone saw the bomb sitting on a window sill in the back of the clinic.
"I went behind the building and I heard something ticking. I went back there to move my truck," Haire said. "I was running toward my truck to get it out of there."
Haire said he saw six sticks of dynamite bound together with black tape. He couldn't see the timer attached to the bundle. He could only hear it.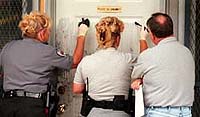 Sgt. Pennyh Goodwin, left, and Cpl. Corina Price of the Cumberland County Sheriff's office dust for fingerprints at the Carolina Somen's Clinic in Fayettefille as another law enforcement officer looks on.
About the same time, 2 1/2 miles away, Vincent Jones said he was inside Erica's Mini Mart at 1935 Gillespie Street when a woman came in and asked to use the telephone.
The woman, who works at the Carolina clinic, found the bomb on the cement porch when she went there to open the one-story building for a cleaning crew, said Bill Salter, who owns Erica's.
"She was very frantic. She described what she seen," Jones said. "She wanted to leave and go back over there because she said she was waiting on a carpenter to get there. I said I'd go down there. I'll warn them off."
Jones said he walked to the clinic and saw a bomb sitting near the clinic's front door.
"As close as I got to it, it looked real," he said. "There were six to eight sticks of dynamite, a little less than a foot long. A timer was on it."
Police arrived and immediately evacuated the area and blocked roads near the clinic.
Lawmen said no recent threats had been made to the clinics, and no one has claimed responsibility for the fires and explosives.
The bombs were discovered shortly after 9 a.m. Soldiers from Fort Bragg's Explosives Ordnance Division dismantled them about 2 p.m.
"This was not a joke," police Sergeant Timothy Hayworth said.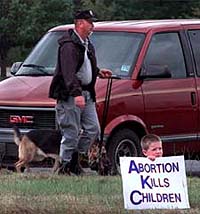 Joshua Hawn, 6, of Fayetteville holds a pro-life sign while Cpl. Don Corrigan and his dog Joyce of the Cumberland County Sheriff's Office check the cars parked behind the protesters.
Clinic owners
Abortionist Harold R. Hoke of New London owns Hallmark Clinic, which has been open since at least the early 1980s. It operates one day a week, Thursday, and was the site of 960 procedures between October 1996 and October 1997, according to most recent state certification data.
The rest of the week Hoke works out of his other clinic, also called Hallmark, in Charlotte. The Charlotte clinic is the state's oldest. Hoke, who is 72, opened it in 1973. It was firebombed in 1985 and later moved to another location in the city.
Abortionist Elliot R. Pack of Durham owns Carolina Women's Medical Clinic, which has been open since at least the late 1970s. Abortionist Clarence J. Washington of Cary also works there.
A woman answering the phone at Carolina clinic said the doctors are there two days a week. In Pack's most recent state certification application, he reported that the clinic performed 1,291 procedures over a 12-month period.

BATF laboratory
Evidence collected at both fires and bomb attempts is expected to be sent today to an BATF laboratory in Atlanta, said Zeb Graham, of the BATF office in Fayetteville. He declined to discuss what police found or if the fires and bombs might be similar to clinic bombings in Atlanta and Birmingham, Alabama.


Yellow tape surrounds the Hallmark Clinic after it was damaged in a fire.
"That will give us a little more information about what we're looking for," Graham said. "I can't say anything about motive. We like to stay away from that. If you look at the time of the two set here, they were not looking to harm anyone. Even if no one was killed, the same effort is going to be poured into it."
Graham, a supervisor of the federal BATF office in Fayetteville, said the two bombs were similar. Evidence from both bombs will be taken to the bureau's laboratory in Atlanta to be examined, he said.
Graham said the bombs could be connected to fires set at the clinics on September 8. The fires were set early in the morning when no one would be around.
"Apparently they only wanted to damage property," he said.
But the bombs were discovered during the day, when people could have been nearby and might have been hurt.
"They now may be looking to harm people," Graham said.
Lawmen said they have leads from both fires and bombs to follow, but no suspects. City police and sheriff's deputies will monitor the clinics more closely to prevent anything else from happening.
"We've been canvassing that neighborhood pretty good," said Chief Windham immediately after the fires. "Nothing's come up."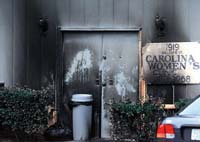 The back entrance to the Carolina Women's Clinic is damaged from an early-morning fire.
But the afternoon after the bombs were discovered Fayetteville police searched for a white man in his 40s with gray hair and bags under his eyes. He was driving a full-size, older-model pickup. Investigators believe the man might be a suspect or might have information about the bomb. They wouldn't say how investigators identified the man as a possible suspect.


---
OTHER IN THE NATION ARTICLES
"Pickets at abortionist's church spark First Amendment fight
National ID card on fast track
NC clinics see fires; bombs
Pro-abort retired Supreme Court justice dies
Anti-abotortion signs anger students; assaults follow
Preaching to Moslems is "hate crime," court says
---