March/April, 1999 Volume XIII Number 5



He's ba-a-a-ck!
The return of the Nuremberg Files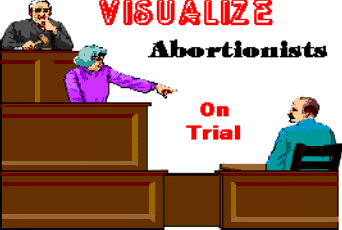 Portland, OR - Only days after the news agencies had reported a $109 million judgment against "an anti-abortion website," Nuremberg Files (www.christiangallery.com/atrocity) disappeared from cyberspace.
Many assumed that the website, run by 54-year-old Neal Horsley of Carrollton, Georgia, had been sunk as a result of the crippling judgment. The truth was that MindSpring, Inc., the Internet service provider (ISP) Horsley paid to keep the site on their servers, had pulled the plug citing its contract allowing disconnecting of websites which were "in poor taste."
In fact, Judge Robert Jones ruled that he had no power to enjoin Horsley or the site since neither were defendants and both resided outside the judicial district of Oregon.
Horsley, however, was not one to trifle with. Immediately after testifying for the defense in the Oregon lawsuit, he proclaimed that he intended to "turn up the heat. in the form of recruiting people across the nation to set up webcams so visitors to Nuremberg Files could see live video of people going in for abortions.
After MindSpring dropped Horsley's site and destroyed all of his programing data, the Georgian said he planned to sue the ISP for theft of his property. In addition, he proclaimed that the site would return to the Internet - in spades.
Planned Parenthood representatives said they would sue those involved in the webcam project.
"We'll fight them every step of the way," said Horsley. "If I go to prison, I'll take the First Amendment with me."
Within two weeks, though, Horsley had a new ISP and had loaded up an old back-up copy of Nuremberg Files into the server and fired it into the ether.
Upgrades came fast and furious. Daily.
The website reappeared on a Dutch server, but the site could face legal challenges, the Los Angeles Times reported.
Karin Spaink of Amsterdam, who set up the site on her own Web site, said the "purpose is not to promote the site's politics ... but to protect the notion of free speech on the Internet and to show "that attempts to restrict that freedom are futile when applied to a global network."
Spaink said, "While I strongly hold that every woman should have an abortion if she needs one, I do not think that other opinions about the subject should be outlawed or fined, no matter how harshly they are put. I'd like to have a new debate about this issue; it's part and parcel of free speech."
The site's reappearance was brief. after a week, the telephone service providor for the ISP pulled the plug.
Meanwhile, several web locations "mirrored" the site in protest against the censorship.


---
OTHER IN THE NATION ARTICLES
He's ba-a-a-ck!
Florida clinic files second harassment lawsuit
Media zeroes in on White Rose Banquet
---