March/April, 1999 Volume XIII Number 5



Media zeroes in on White Rose Banquet
by Roger Domingo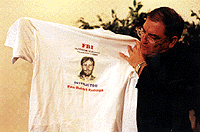 College Park, MD - Easily likened to a hungry circle of sharks with a scent of blood, the media reporters and photographers seemed to outnumber the seventy paying guests at this year's White Rose Banquet.
The fourth annual event was held on the eve of the twenty-sixth anniversary of Roe v. Wade.
The dinner is held as a tribute to the sacrifices of Christians who are imprisoned for their efforts to protect Unborn children from abortion. It is also intended to provide both spiritual and tangible support to the families of those prisoners.
The elevation of the celebration to the status of "newsworthy" is no doubt attributed in part to the involvement of the event's founder, Michael Bray, as a co-defendant in the $1.4 billion lawsuit then being waged in Oregon by Planned Parenthood with the enthusiastic support of the federal government and its Freedom of Access to Clinic Entrances (FACE) and Racketeering Influenced and Corrupt Organizations (RICO) laws. The abortion enthusiasts allege that anti-abortion rhetoric incites others to commit acts of violence against death providers.
At the White Rose Banquet, when first given the opportunity, one of the reporters asked Rev. Bray, "Do you think it is appropriate to honor those who have violently broken the law?"
The answer, echoing the conclusion of the written statement the leader had just presented, was, "Yes."
News crews were present from television's 60 Minutes and 20-20, Associated Press, The Washington Post, Time magazine, Veritas for HBO, and various others.
Bray, co-pastor of Bowie, Maryland's Reformation Lutheran Church which sponsors the White Rose Banquet, read a prepared position statement for the media. The key points in his thesis included these: 1) The Supreme Court exceeded its constitutional powers in issuing Roe, and the other branches of the federal government failed to fulfill their responsibility - under the constitutional system of checks and balances of power - to negate such illegitimate action; 2) The "retained rights" provision of the Tenth Amendment makes clear that abortion regulation is beyond the scope of federal control, and thus the States' anti-abortion laws have not been nullified, are still intact, and should be enforced.
Bray's paper called upon governors, legislatures and civil authorities in all states to, "Free those in your prisons who have been prosecuted for defending the innocent Unborn children," "enforce your own laws which prohibit abortion, and close down the facilities of childslaughter," and "perfect your laws with the recognition that the killing of children in the womb is murder, a capital crime punishable by death: execute abortionists."
After reading his prepared statement, Rev. Bray fielded questions from various reporters and displayed the wanted poster that is at the center of the government and Planned Parenthood's suit against himself and other anti-abortionists. In this historic free speech case it is alleged that the guilt for violent deaths of abortionists can be hung around the necks of those who have publicly declared that abortion is murder.
Bray then dismissed the media, its lights and cameras for the banquet portion of the evening's fellowship and then re-admitted reporters for the traditional auction of "prisoner relics" and for oral remarks from freed prisoners and written greetings sent from some who remain in custody.
Don Spitz, as in previous years, auctioned off an assortment of personal possessions and artsy-crafty creations of prolife prisoners that fetched handsome donations to the fund that is disbursed among the families of prolife inmates. Knitted camouflaged hats, scarves and booties produced by Rachelle "Shelley" Shannon, and artwork (including a memorable self-portrait in bars-and-stripes) by David Lane were popular items. Also eagerly purchased were clothing items such as John Brockhoeft's hooded and numbered prison sweatshirt, and somebody's tattered and elaborately personalized camouflage shirt. Nearly all of the items were accompanied by certificates of authenticity.
An informal summary was delivered regarding changes in status and constraints on prisoners and former inmates.
Written greetings from prisoners "Shelley" Shannon and Linda Gibbons were read, fittingly, by Cheryl Richardson who two years ago was awarded two months in jail for refusing to "name names" before Janet Reno's clinic-violence-conspiracy-theory minions.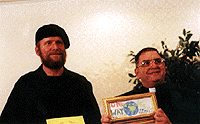 Shannon's message read, "When God is really blessing you it doesn't matter much what the world is doing to you."
White Rose Banquet speaker John Arena was ultimately convicted of causing more than "$50,000 damage" to an abortion clinic. Providing the acid for two stink attacks and sending a variety of communications to abortionists resulted in imprisonment that spanned Mr. Arena's 74th, 75th, 76th and 77th birthdays. Actually, his first trial resulted in a sentence of five years' probation and community service for "malicious mischief," but federal authorities - with Janet Reno's approval and encouragement - retried him on federal charges that resulted in the much more aggressive retribution.
Vietnam veteran, White Rose Banquet speaker, clinic demolitionist and prison alumnus John Brockhoeft, was imprisoned from 1988 to 1995.
There is a paradox in John Brockhoeft. He has the peaceful countenance of a Francis of Assisi statue feeding the birds, and a shy look when receiving complimentary remarks; he is a doting father to his lovely children and a tender husband to his New Zealand pen-pal (now wife), Joanne. He defies the government's profile of a heartless urban terrorist. But when John speaks, the words emerge from deep within him as the upwelling of magma in a volcano.
We need no further explanation after he quotes Jeremiah 6:11, "I am full of the fury of Yahweh and I am weary of holding it in!" and when he tells us, "I'm furious about the mutilation and torture-murder of babies."


---
OTHER IN THE NATION ARTICLES
He's ba-a-a-ck!
Florida clinic files second harassment lawsuit
Media zeroes in on White Rose Banquet
---