May/June, 1998 Volume XII Number 12



Pagan pro-abort music tour to begin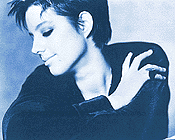 Sarah McLachlon, organizer of Lilith Fair
Portland, OR -- On June 19th the Lilith Fair music tour will kick off in Portland Oregon.
Lilith Fair is a pagan, pro-abortion concert tour named after, Lilith, a demon character out of Jewish/pagan mythology who was said to be the first wife of Adam. In ancient myth, Lilith rebelled against God and refused to submit to her husband, Adam, and went off to bear demon children. Later, Lilith took vengeance by killing human children.
In modern feminist pagan writings, Lilith is said to be a "goddess," as opposed to a demon. At least one book refers to Lilith as the Goddess of Abortion. (see Feature, this issue).
The concert tour is organized and run by women and is scheduled to tour across the U.S. stopping at many major cities. However, it is not just a concert full of women, but a major platform to advocate for abortion.
Organized by Canadian songstress Sarah McLachlan, Lilith Fair is a showcase for women musicians or women-led music groups as a response to male-oriented music tours like Lollapaloosa.
The key element to is to attract youth -- particularly young women -- through music and the concert atmosphere.
Included among those who will be providing music are Jewel, Sheryl Crow, The Indigo Girls, Fiona Apple, and Paula Cole.
Lilith Fair also brings Planned Parenthood (PP) along on the tour with the concert and gives them a forum to promote their "services."
"Thousands of young girls during every day of the Lilith Fair will be told by PP that abortion is their right and that it is not immoral or wrong," said Bryan Kemper, national director of Rock For Life (RFL).
According to some sources, thousands of Christians will be going to this Lilith Fair as well.
"We must not allow these Planned Parenthood lies to be spread to our youth any longer," added Kemper. "It is time for our generation to stand up and say enough."
Rock For Life has been contacting pro-life groups all across the country to mobilize an effort to respond to the concert tour. They hope that local and national pro-life groups will reach out to the youth attending this tour. RFL will be preparing a flyer for people to pass out at Lilith Fair all over the country.
Some organizations have already committed to responding to Lilith Fair in their areas. Among them are Pro-life Action League (Chicago), Operation Rescue/West (California), Rock For Life (Oregon-Washington), Why Life? (Virginia-D.C), C.A.L.L. (Wisconsin), Rescue X (Texas), and Rock For Life/PA (Pennsylvania).
"Rock for Life will find out the dates and locations of Lilith Fair concerts and will give that information to all interested pro-life groups," said Kemper.
For more information on getting involved in your area call Rock For Life at (503) 238-0457 or e-mail them at rock4life1@aol.com.


---
OTHER IN THE NATION ARTICALS
Activist completes 40 day
Pagan pro-abort music tour to begin
Operation Rescue leader jailed in back to school event
Abortionist charged with murder; charges reduseced
---