May/June, 1998 Volume XII Number 12



Operation Rescue leader jailed in Back to School event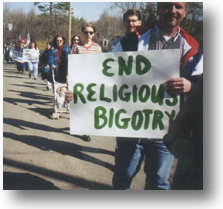 Lynchburg, VA -- It all started innocently enough. In January, Flip Benham, director of Operation Rescue/National (ORN) was the invited speaker at a Sunday night church service at Liberty University (LU) as well as at Thomas Road. Jerry Falwell, a nationally-known pastor of Thomas Road Baptist Church and one-time founder of the Moral Majority, is chancellor of the university.
After preaching, Benham invited students to join him in distributing pro-life and gospel literature outside E.C. Glass High School the next morning as part of ORNís "Back to School" campaign. According to LU spokesmen, they were unaware that Benham was going to issue the invitation.
About 200 students arrived outside the high school and assisted in the campaign.
Approximately 50 police officers came as well. No arrests were made, but weeks later, in February, under pressure from James T. McCormick, principal at E.C. Glass, and other school officials, the district attorney took the case before a grand jury and obtained an indictment on misdemeanor charges of parading without a permit, trespassing, and disorderly conduct for Benham and two LU students, John Reyes and Jeffery Brown.
McCormick is no stranger to controversy. In the past, he has prohibited "Meet Me At the Flagpole" prayer sessions by students because they did not have a parade permit.
Benham flew back from Texas for the trial.
At trial, police officers testified that there was nothing disorderly in the conduct of those participating in the event. They said that when there was confusion about the boundaries of school property, the activists moved as soon as police informed them that they were on school property. They said Benham "conducted himself in an orderly fashion."
Still, Judge Richard S. Miller declared them guilty of trespassing. They were found not guilty of the other charges. Miller sentenced Benham to the maximum one-year sentence and suspended six months. Additionally, he ordered that Benham could not leave the state while the appeal was pending.
Benham elected to get his sentence over by serving it right away so he would be able to return to his family. He reported to the jail on February 18. Reyes, who received the same sentence posted an appeal bond so he could continue his education at LU. Brown was sentenced to six months with all but 15 days suspended.
Bruce Green, attorney for the three from American Family Association (AFA), said, "Iíve never heard of such a thing. This is the most heavy-handed travesty of justice Iíve ever seen. Weíll appeal this as far as we have to go. We donít care what the cost is."
ORN compiled a sample listing of Millerís sentencing showing that ordinarily he is a judge given to light sentences and who often gives sentences of 30 days for assault and battery, assault with a knife, and trespass, and reducing sentences to "no jail time" for felony possession of cocaine from two or three years and felony grand larceny from one year.
Angered by the sentence and the order prohibiting Benham from leaving the state, ORN began a nationwide call for activists to come and spend a week of protest called Operation Restore Liberty in Lynchburg between March 13 through 22.
About 120 activists from 20 states came for the campaign, which included candlelight vigils at the jail, pickets at the homes of Judge Miller and the principal of E.C. Glass High School, and eventually, demonstrations at Falwellís Liberty University (see sidebar). Rallies were held each evening with guest speakers like Randall Terry, Keith Tucci, both former directors of ORN, and Pat Mahoney.
"The case against Rev. Benham illuminates how intolerant our justice system has become toward the Christian faith," said Randall Terry. "A double standard exists in Americaís courtrooms. Had Rev. Benham been passing out condoms or had been expressing any other message, he would not be in jail today."
The city council has since repealed the parade permit ordinance under threat of an AFA lawsuit.


---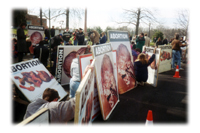 Opportunity lost as Christians squabble in public
Lynchburg, VA -- Much of the opportunity to highlight injustice in the courts was lost during Operation Rescue/Nationalís (ORN) Operation Restore Liberty campaign when leaders from Christian organizations began and continued a tit-for-tat dispute.
After a "Back to School" event led by Flip Benham, Liberty University (LU) chancellor, Jerry Falwell, expressing surprise at the occurrence, made a public comment -- a relatively mild rebuke of Benhamís "tactics" and "disruption." Falwell is well-known for his vocal and active pro-life support -- even once contributing $10,000 to a defense fund for ORN founder, Randall Terry.
Benham made an unnecessary public reply, and Falwell upped the ante by offering to pay the overtime expenses incurred by the Lynchburg police during the "disruption" -- though police testified that the activists were "orderly." LU paid just under $700.
By the time Benhamís trial was over, LU statements were calling Benhamís event "reprehensible" and accusing him of "grandstanding" because he chose to go to jail.
"Heís in jail by his own choice," said Falwell. "Heís in jail grandstanding, for that, I have nothing but contempt."
Falwell pointed to an offer by Judge Miller to reduce Benhamís sentence if Benham would offer "some acknowledgment of fault" and if the city received "financial satisfaction . . . for the loss of city employee manpower in dealing with this event."
The kettle continued to boil for nearly a month until ORN got the Operation Restore Liberty campaign going in March.
A LU press release by spokesman Mark DeMoss descended to the silly in their reasons for opposing Benhamís tactics.
"[W]e are not aware of any abortions ever being performed at E.C. Glass High School or any other school in Lynchburg," DeMoss wrote.
ORN leaders discovered that LU had contracted with Barnes & Noble to run their campus bookstore. Barnes & Noble stores have recently been under heavy fire for selling child pornography under the guise of photography "art" books by Jock Sturges, David Hamilton, and Sally Mann. ORN press releases state that Falwell had been informed of Barnes & Nobleís activities and the fact that two states have indicted the stores for child porn sales before the contract was made. The claim Falwellís response was, "They were the highest bidder."
Then one ORN operative entered the bookstore and placed an order for one of the offending titles, then the group used the contract with Barnes & Noble and the fact that the store accepted the order to tar LU and Falwell.
LU responded that the store manager canceled the book order once he became aware of the nature of the bookís contents.
Falwell retorted, "I think we have a group of unscrupulous visitors in town who sow discord as a profession."
He closed the doors on any possible resolution of the issue by stating publicly that he did not believe any of ORNís leaders wanted resolution.
"They want conflict," he said.


---
OTHER IN THE NATION ARTICALS
Activist completes 40 day
Pagan pro-abort music tour to begin
Operation Rescue leader jailed in back to school event
Abortionist charged with murder; charges reduseced
---