May/June, 1999 Volume XIII Number 6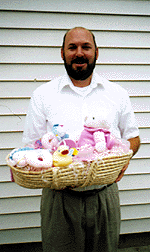 Chinavera sentenced to seven one-year terms
Milwaukee, WI – All James Chinavera ever wanted to do was save children. Now he will serve seven, one-year, concurrent sentences for his passion.
In 1990, Chinavera worked with a child-protection agency and planned to make it his life's vocation. However, according to Chinavera, the Lord had other ideas. This was about the time that he heard Matt Trewhella, a local pastor and the founder of Missionaries to the Preborn (MTTP) call for Christians to come to Milwaukee to be full-time missionaries focused on the Unborn as a "people group."
"I loved the job I was in," he says, "but I knew I couldn't keep it while other children – as equal in the Lord's eyes – were being murdered every day by abortion."
Soon Chinavera was part of MTTP's flying-rescue squads – blocking abortuary doors three or four times a week until a number of Wisconsin clinics merely closed rather than face the daily burden of having Trewhella's troops singing hymns outside their doors.
Eventually, between the federal Freedom of Access to Clinic Entrances (FACE) Act and the aggressive pro-abort State Attorney General James Doyle obtaining an injunction prohibiting "blocking or impeding access or demonstrating" within 25 feet of the clinic entrances, MTTP turned to less confrontational means of stopping abortion.
Chinavera chose to sidewalk counsel – primarily outside a local Planned Parenthood clinic. Meanwhile, he started his own family.
The injunction receded into a distant memory for local activists. While most of Chinavera's work took place outside the injunction area, occasionally a situation arose where a woman seemed so distraught that he would walk within the 25 foot area to talk with her to offer her a choice.
He didn't consider himself to be "demonstrating" as he carried no sign – and he certainly was not "blocking access" as he was well away from the door. Besides, it had been years since anyone was tagged with an injunction violation.
Chinavera didn't count on the implacability of the abortion enthusiasts.
On May 9, 1997, five months after Chinavera had last ventured within the injunction zone, the Justice Department pulled up and served him with a criminal complaint based upon seven instances he was said to have entered the verboten zone.
Each charge carried a potential for one year in jail.
"The case against James Chinavera proved three things," said Trewhella. "Number one, that pro-choice is not pro-choice. Number two, that the pro-choice crowd will not be happy until all dissent to their bloodbath is crushed. And number three, that there are Christians in America who are willing to suffer for the cause of Jesus."
Almost two years later, Chinavera was finally given a trial date – March 15, 1999.
Convinced that going through a trial was a way to heap responsibility and accountability before God on the abortionists, Chinavera pled not guilty.
Chanting the now-familiar pro-abort judge mantra, Judge Clare Fiorenza opened the court's record saying, "This case has nothing to do with abortion or personal beliefs."
The videotapes of Chinavera showed he indeed had not blocked or impeded access. In addition, it was clear that he was not demonstrating in any usual meaning of the word.
However, Judge Fiorenza found Chinavera guilty on all counts, insisting that, because others nearby held signs, that Chinavera was "demonstrating."
At the sentencing hearing, two of the women Chinavera had helped – mothers who had kept their babies – testified on his behalf. Another wrote a letter to the judge.
Hundreds of letters from around the country filled the judge's office.
While Assistant Attorney General Roy Korte sought two years in jail without work release, Jim Donohoo, Chinavera's attorney argued that there were at least five babies alive because of Chinavera's peaceful sidewalk counseling in front of Planned Parenthood. It was a simple matter of five human beings' lives verses a piece of paper – the injunction.
The judge was not moved and sentenced Chinavera to seven concurrent one-year sentences – a heavy blow to a man with a wife and four children of his own.
Upon sentencing, Chinavera told the judge, "By God's grace in the last seven years, my wife and I have been faithful to love our neighbor in the womb. Now, by God's grace, wherever I am placed, I will continue to love my neighbor. It will break my heart to be away from my family, but my wife and I will not dishonor the Lord by apologizing for helping children."
God honored that faithfulness. On April 12, the court agree to allow Chinavera to remain free pending appeal.


---
OTHER IN THE NATION ARTICLES
Happy-Faced Tyranny
Chinavera sentenced to seven one-year terms
Calgary hospital nurses go public with abortion concerns
Canadian babies born alive after abortion
---