September/October, 1997 Volume XII Number 8

COVER STORY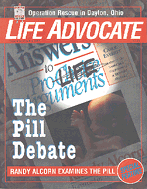 Does the birth control pill cause abortions?
The Pill is used in America by about fourteen million women each year. Across the globe it is used by hundreds of millions. The question of whether it causes abortions has direct bearing on untold millions of Christians, many of them pro-life, who use it and recommend it. For those who believe that God is the creator of each person and that He is the giver and taker of human life, this is a question with the most profound moral implications. A great deal is at stake here not simply for society, but for the church of Jesus Christ.
---