September/October, 1999 Volume XIII Number 8



IFPA wants Youth Defence pickets jailed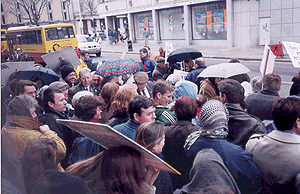 Dublin, IRELAND – The Irish Family Planning Association (IFPA), a branch of Planned Parenthood Federation International, has sought the High Court's leave to seek the attachment and committal to prison of some members of Youth Defence, the anti-abortion group, for alleged contempt of court.
Following an undertaking not to breach an existing injunction restraining picketing of the association's abortion facility in Cathal Brugha Street, Dublin, Justice Laffoy, on August 11, adjourned the application for a week.
The court granted the association leave for orders of attachment and committal to be issued against Don Lane and John Delaney, who were held to have been properly served and who did not attend yesterday's hearing.
Micheal P. O'Higgins, counsel for six members of Youth Defense, told the court his clients would be contending that they had not breached or flouted the court restraint.
Justice Laffoy said next week the court would also deal with similar applications against other people associated with Youth Defense whom, she held, had not been properly served with notice of the proceedings.
The association claims its facility has been picketed in breach of a court order and that anti-abortion activist's hand out leaflets to the facility's clients and display placards saying the clinic "exports Irish babies for slaughter".
It claims that since the court restraint was granted earlier this year, the association has been forced to invest more money on additional security measures and that staff time expended on dealing with the problem was estimated.

---
OTHER IN THE NATION ARTICLES
New York's "Gay" Pride Parade
IFPA wants Youth Defence pickets jailed
Editor fights back – with federal lawsuit
Disney/Donald Duck
---

Copyright © 1999 AFLM