Disney/Donald Duck Video on Population Control Sold by Planned Parenthood Affiliate
By Steven W. Mosher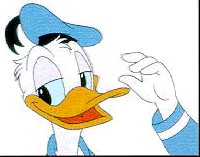 A 1968 Disney propaganda cartoon featuring Donald Duck encourages families in the developing world to have few children. The cartoon "Planificacion Familiar" ("Family Planning") was created by Disney for the US Population Council, one of the chief promoters of population control, and is being distributed by the Chilean affiliate of Planned Parenthood, Associacion Chilena de Protection de la Familia (APROFA), for home and educational viewing.
APROFA is selling the video as part of a set which retails for $250. The set includes "Planificacion Familiar," a Planned Parenthood cartoon entitled "Felices Familias Planeadas" ("Happy Family Planning"), and an APROFA educational video entitled "La Confianza No Es Un Metodo" ("Hope is Not a Method").
"Family Planning" begins with Donald Duck, a well-loved children's figure, opening a medical supply kit that contains reproductive health supplies, oil paints and an easel. Using the paints and easel he proceeds to illustrate rapid population growth and ensuing starvation.
"The world is overpopulated," a narrator declares. "With every generation, the population is growing too fast.... Let's say in time that this couple will have more children.... The mother ... is unhappy, weak and sick. The children will be sickly too.... But this situation can change."
From his reproductive health supply kit, Donald Duck brandishes a golden key, and declares: "Science gives us the key for a new personal freedom: family planning!"
We wonder if anyone at Disney considered how children would react to the sight of their favorite duck declaiming on the dangers of overpopulation?
How many children have felt guilty when they learned that they and their siblings were the cause of their mothers being "sickly and sad," or grew anxious over the suggestion that they may "starve" and their families may grow "impoverished"? Children all too readily blame themselves for the misfortunes of others, a characteristic the video seeks to exploit.
At the end of "Planificacion Familiar," Donald Duck declares: "We are all responsible for humanity and that means you too!"
Patty Gadomski of Disney Educational Productions confirmed that Disney created the Donald Duck "Family Planning" cartoon. She said that it sold well in Third World countries, but went out of production in 1988 because of decreasing demand.
Gadomski added that APROFA is in violation of copyright law for reproducing and marketing the video, and for marketing the accompanying video "Happy Family Planning" as a Disney product.
"Happy Family Planning" markets condoms, IUDs, the pill and other methods of birth control, in the Chinese, French, Spanish, English and Arabic languages. A close examination of the credits reveal that "Happy Family Planning" was not made by Disney but by Planned Parenthood of America in cooperation with the Wyeth Institute. Wyeth-Aherst is the manufacturer of Norplant.
The third video in the set was created by APROFA and contains animations of the sexual act. It also contains live footage of two adults encouraging an adolescent audience to avoid pregnancy by practicing non-genital sex instead of coitus.
Gadomski described APROFA's use of the Disney name and video as "a serious no-no" and said Disney's attorney's would be in contact with APROFA to stop the violation.
Steven Mosher works with the Population Research Institute, P.O. Box 1559, Front Royal, Virginia USA 22630