Janurary/Feburary, 1999 Volume XIII Number 4



Pro-lifer gives pro-aborts "a devil of a time"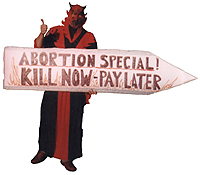 Anaheim, CA - Customers of the Chapman Clinic abortuary in Anaheim receive encouragement from the devil from time to time.
A Southern California pro-life activist has taken a page from the advertising manual of the housing market by donning a devil suit and holding a sign in front of the Chapman Clinic abortuary.
The Chapman Clinic is one of dozens owned and operated by abortion entrepreneur, Edward Allred.
Scott Lively, a law student at Trinity Law School, recently was struck by the advertising tactics outside new tracts of homes in the sunny section of the country. Developers hire people to dress up in various consumes to dance around with large arrow-shaped signs pointing to the new homes to attract attention.
Lively decided that dressing up as the devil with a "Abortion Special: Kill now, pay later" sign would convey a strong message to the abortion-bound mothers.
"All of their euphemisms lose their force when you recognize that the Devil is behind them." he said.
A group of local Catholic women who pray outside the clinic confirmed that the look of shame on the faces of these women is a common reaction.
But Lively receives other reactions as well. Many shout at him variations on typical pro-abortion justifications such as, "It's my body" and "I can't afford another child."
"Those are the best," says Lively. "I just agree with them. I say, 'Yeah! That's right. It is your choice! and I support that choice!' or I say, 'You got it! How can you be expected to pay the payments on your BMW with another mouth to feed?' I just blows them away."
Lively's costume is full-length with a full-head rubber mask of Satan. He hopes to add others to a troupe including Death and ogres.


---
OTHER IN THE NATION ARTICLES
Speech in peril
Anthrax wars!
Pro-lifer gives pro-aborts "a devil of a time"
---