September/October, 1998 Volume XIII Number 2



Missionaries invade Canada
by Dan Holman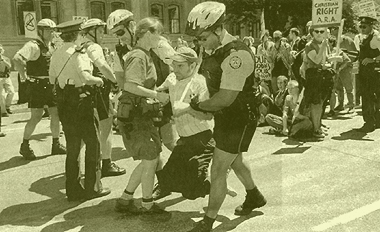 Toronto police remove one of several demonstrators sitting in the middle of Queen's Park Circle. Pro-abortion activists scuffled with police while protesting march by pro-lifers at Queen's Park.

Toronto, ONTARIO--Canada is the second largest nation in the world, but it's population is just under 28 million. Ontario, with its ten million people, is Canada's most densely populated province. Missionaries to the Preborn, a Milwaukee, Wisconsin-based group, co-sponsored a short-term mission into Ontario for Canada's second "Show the Truth" Tour. The tour covered 18 major cities in just six days.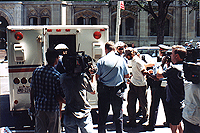 Canadian-American contingent Forty Canadians and 24 Americans covered the entire distance of over 1200 miles.
Many people joined the missionary ranks in different cities. Protesters noted that they seldom had extra unused signs. On the first day particiapnts reported that the tour met with success.
At St. Catherine, a woman confided that she was considering an abortion. She changed her mind as a result of seeing large pictures held onto by the tour team.
In Niagara Falls the baby pictures were displayed to people from all over the world. The vehicle and foot traffic was very heavy and much literature was given out. Team leaders elected to bypass the censoring media.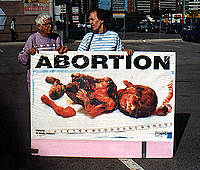 In Kingston, the tour was met by 22 pro abortion protesters who tried to block two signs with their bodies, umbrellas, and other signs. Many of the missionaries took the opportunity to share the gospel with them.
"They blocked our vehicles when we were leaving the parking area," a participant in the tour noted.
A number of these pro-abortion protesters were detained by police as the tour continued.
"The Canadians were excited. It was for many of them, their first real act of prophetic ministry," according to Jim Soderna, one of those on the tour. Others were encouraged because typically they stand, few in number, at Canadian abortion clinics.
Some of them, such as Linda Gibbons, a Canadian grandmother arrested and jailed repeatedly for her rescue efforts, are modern day heroes of the faith. Gibbons has even been arrested and imprisoned for merely praying in front of Ontario's clinics.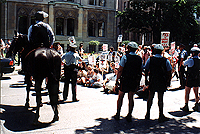 In Toronto, a city of 4 million, tour members were met by approximately 100 screaming pro-abortion demonstrators, some carrying baseball bats and wearing masks to conceal their identity.
Those countering the missionary efforts blocked off the flow of traffic in an attempt to keep signs from being seen. They chanted, "Pray you'll need it, your cause has been defeated." and "Trewhella, Trewhella, your going to burn in hella," referring specifically to the founder and director of Missionaries to the Preborn. Matthew Trewhella is a Milwaukee area pastor who became committed to protesting abortion at about the time that Randall Terry encouraged Christians to engage in blockading abortion facilities.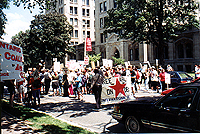 Trewhella responded, "We are not defeated so long as we fight. The Toronto police did a good job of protecting us."
Eleven pro-abortion demonstrators were arrested as a result of the confrontation. Many of them fought with the police when the officers tried to clear the street. The violence that resulted from their counterprotest prompted the Toronto Sun to title its story "Bloody Protest."
Whitby, Scarbourgh, Kitchener, in every city, literature was handed out, and people were talked to. Many of the Missionaries reported that they were able to share their own personal testimonies of salvation throughout the events.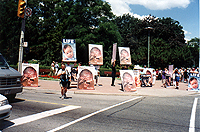 Soderna says, "Everyone saw God's hand in what was accomplished."
In general the group reported that they were well received by Canadian citizens. Remarking on the differences between an earlier American tour and the Canadian one, Jim Soderna reported that "The Canadians comforted us at every stop. They prepared meals, a place to flop-often a church hall or gymnasium-and good fellowship. We were moved and humbled as they cheered us in Kitchener. The mood of most people in Ontario was generally more polite and reserved than what we experience in America. The presentation of the pictures left many of them speechless. The babies themselves had the final word."


---
OTHER IN THE NATION ARTICLES
"Baby Phoenix" survives against all odds
Biskind incompetent
Missionaries invade Canada
Protest results in assault by police
Billboard campaign angers homosexuals, politically correct
Rome conference ends without consensus
Monuments to the prophets
---

&copy 1997 Advocates for Life Ministries