September/October, 1998 Volume XIII Number 2



Protest results in assault by police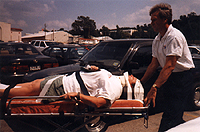 Atlanta, GA-Pro-life activist Kathy Ryder suffered police brutality while exercising her First Amendment rights in Atlanta Georgia. Officers tried to silence her protest by not only ripping the signs from Ryder's hands but by breaking them to pieces as well. However as if this silencing was not enough, in Ryder's effort to protect the rest of the signs she was arrested for jaywalking. Her arresting officer, Ewing, pulled her by the handcuffs and roughed her up until she fell or was shoved to the ground. With a injured back, Ryder was taken from the scene by ambulance.
The day started when twelve peaceful anti-abortion activists gathered in southwest Atlanta on the corners of Pryor and Fair road in front of an entrance to Lakewood Amphitheater on July 24th. The group was there to protest the Lilith Fair's support and promotion of Planned Parenthood. The fair is named after a demon said to be responsible for various baby deaths, and touted as the "goddess of abortion" (Life Advocate, May/June 1998). Those present included Tim Cox, Kathy & Ashley Ryder of "True Choice," Michael & Michelle Wolven of "Women 4 Women" and Erik Whittington and Tina Blair of "Rock For Life."
Around noon, police officers arrived at the scene and left almost immediately after noting that protesters were engaged in legal activities. At 2 pm, approximately two hours later, an officer identified as Sargent Ewing arrived. He took a large sign of an aborted baby out of Tim Cox's hand and responded by saying, "You are on private property. You must leave."
In his next attempt to take possession of another sign he was met with some resistance. Pro-lifers surrounded him demanding an explanation. Ewing responded with physical intimidation by pushing his chest into protesters, "getting in people's faces," according to Eric Whittington of Rock for Life. Ewing then brushed up against Ryder's body, stepping on her foot. He than proceeded to take a second sign out of young Ashley Ryder's hands by actually grabbing her arms and pulling them away from the sign.
Ewing then went for a third sign. This sign was held by two pro-lifers who continued holding to their sign despite Ewing's attempt to take it from them. Protesters repeatedly asked for an explanation as to why the signs were being confiscated. Ewing responded to protesters' efforts to keep their sign by ripping it away from them. He then accused them saying, "You ripped the sign."
"What started as a peaceful protest" claims Whittington, "turned into complete mayhem, thanks to Sargent Ewing." At this time, several Lilith Fair bystanders and motorists joined in by yelling obscenities at the protesters and even ripping up a sign in front of Ewing. The officer declined to take any action.
An attempt was made by Ewing to steal a fourth sign. Instead of taking a sign, he handcuffed Kathy Ryder. When pro-lifers demanded an explanation, Ewing responds, "I'm arresting her for jaywalking."
Once behind the patrol car and out of sight of protesters, Ewing proceded to tug and push Ryder by her arms until she was knocked to the ground next to his car. Ryder began crying and alerted the officer that she was suffering from severe back pain. Ewing then grabbed Ryder, pulled her up, and shoved her into the back of his patrol car.
Ryder continued to cry and screamed for protesters to call for medical help.
Protesters called 911 and requested assistance and another officer arrived at the scene to take control of the situation. Within another 30 minutes an ambulance arrived at the scene, more than 45 minutes after Ryder was initially taken into custody and injured. Ryder was taken to an area hospital. The extent of her injuries are unknown.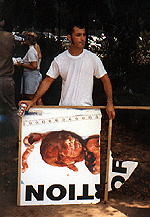 Eric Whittington holds a partially destroyed sign, one that officer Ewing tore in half.
True Choice, with the help of Rock For Life, was traveling to three Lilith Fair's on the East Coast with a mobile Crisis Pregnancy Center. The other two protests were held without any confrontations with law enforcement officials.
Lilith Fair is this year's largest touring musical act. All bands are female led. Lilith Fair takes Planned Parenthood with them at every show and gives them a booth to distribute their literature and hundreds of thousands of condoms. Lilith is the name of a pagan demon that, throughout ancient times, was considered responsible for crib deaths, miscarriages, and abortions. Only recently has she been elevated by the militant feminist movement to the place of a goddess. "It is interesting" says Whittington, "that a concert that claims to celebrate women in music, names themselves after a pagan demon responsible for killing their unborn children." Currently a lawyer is reviewing videotapes of the events in Atlanta, including Ryder's arrest and transfer to a hospital, and is strongly considering litigation against the City of Atlanta and the police department.
If you are interested in organizing a peaceful protest, please contact Rock For Life at 503-238-0457.


---
OTHER IN THE NATION ARTICLES
"Baby Phoenix" survives against all odds
Biskind incompetent
Missionaries invade Canada
Protest results in assault by police
Billboard campaign angers homosexuals, politically correct
Rome conference ends without consensus
Monuments to the prophets
---

&copy 1998 Advocates for Life Ministries