September/October, 1998 Volume XIII Number 2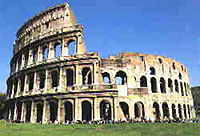 Rome conference ends without consensus
UN World Criminal Court meetings divided by pro-abortion agenda
Rome, ITALY- July meetings sponsored by the United Nations to establish an International Criminal Court were fraught with controversy. In a secret meeting, radical feminists and population control extremists sought to advance new language which would result in a practical mandate for countries to impose abortion access.
July 6, a Costa Rican delegate blew the whistle on a bid by Canada to orchestrate a secret deal to advance the agendas of the radical-feminist Women's Caucus in the International Criminal Court negotiations underway in Rome. The invitation-only meeting, held on Sunday at the Canadian Embassy, brought together delegates from 30 powerful delegations, including the United States, the United Kingdom and Japan.
According to sources, most of the meeting consisted of a presentation by two Women's Caucus supporters (one of whom, Sarah Sharratt, had managed to attach herself to the Costa Rican delegation). Delegates were briefed on possible ways to ensure that key Women's Caucus language regarding "enforced pregnancy," a term utilized by radical-feminist lobbyists as code for criminalizing any denial of access to abortion, would survive into the final ICC Statute. Other language regarding so-called "gender justice," another code phrase intended to permanently bias the ICC in favour of the radical-feminist perspectives, was also the subject of the meeting.
Both elements of the radical-feminist agenda have come under heavy attack from predominantly Catholic and Muslim nations. The Women's Caucus and its supporters among Western nations had hoped that the lack of clarity regarding the meaning of "enforced pregnancy" would soften the resistance of the scores of Catholic and Muslim nations that have legal protections for unborn children.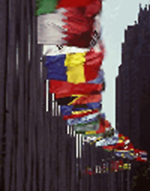 The Costa Rican delegate, angrily noting that smaller delegations like his own had been deliberately excluded, demanded an explanation of the secret meeting from the Committee of the Whole chairman, Philippe Kirsch of Canada. A charge was made that the ICC conference could not claim to have fairly considered the viewpoints of all concerned parties on issues of vital importance, when these sort of exclusive private meetings were being held.
Chairman Kirsch lamely replied that the Canadian embassy lacks sufficient space to accommodate a meeting of more than 30 participants. He then hastily gavelled the Committee of the Whole session to a close before any other countries could make interventions in support of the Costa Rican complaint.
The secret meeting was only the latest in a series of procedural abuses perpetrated by Western countries to stifle debate on contentious issues. Earlier, an informal meeting of delegates to debate the "enforced pregnancy" question was moved without notice to a new location. A large number of Muslim delegates who had planned on attending were left in confusion as to the meeting's location, and were only able to participate after pro-life lobbyists swiftly tracked them down and led them to the new room.
Once the Muslims arrived, the meeting's Dutch chairman told them that there was insufficient seating to accommodate them. Muslim delegates demanded that the meeting be moved to a larger room where they could participate, but instead the Dutch chairman adjourned the gathering without further debate.
Immediately afterward, he was overheard privately assuring a Women's Caucus lobbyist that their language regarding "enforced pregnancy" would be included in the final ICC statute.
Catholic and Muslim nations demonstrated a stiffening resolve over the last three days at the International Criminal Court (ICC) negotiations. Despite intensive pressure and repeated procedural manipulations by pro-radical-feminist Western delegations, the religiously-based countries have made it increasingly clear that they will not accept an ICC that is ideologically skewed in favour of the radical-feminist agenda.
Midway through deliberations, pro-life and pro-family nations again flexed their muscles. Strenuous objections, particularly by Muslim delegations, led to the deletion of two references to "gender" in Article 37 of the statute, which deals with the court's composition. The Women's Caucus has pushed for the inclusion of "gender" references in several sections of the ICC text in hopes of utilizing the hazily-defined term to gain legal recognition for various elements of the radical-feminist and homosexual agendas.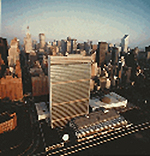 By a majority vote late on the last evening in Rome, the nations of the world approved the adoption of a statute to create a new International Criminal Court. The court's future remains uncertain, however, as many powerful countries voted against the statute, including the US, China, India, and Turkey. Another 21 countries abstained. And it is widely believed that many others, including Russia and many Muslim states, won't ratify the treaty even if they sign it (most countries require both signing and ratification before new international treaties can come into force).
Consequently, even if the ICC does secure the threshold of 66 national ratifications needed for the court to come into legal effect, it won't have the endorsement of the governments of well over half the world's people. It will also lack the support of at least three of the five permanent members of the UN Security Council, making its status even more uncertain.
Nevertheless, the alliance of Western nations and activist NGOs who have dominated the Rome negotiations process are claiming victory today. They contend that even with the notable nations that have opted out, the ICC will still be able to exercise "universal jurisdiction" and impose its authority on every country, including the US and the ICC's other major opponents. This seems to be a brand new notion in international law.
With regard to the struggle waged in the Rome between pro-life/pro-family forces and the radical-feminist Women's Caucus, both sides are claiming some successes. Radical-feminist and homosexual activists cite the inclusion of references to "forced pregnancy" - a Women's Caucus code word for criminalizing any denial of access to abortion -- and to "gender" - another vague and elastic term used to advance other elements of the feminist and homosexual agendas - as evidence that both concepts have now been recognized under international law.
The pro-life and pro-family contingent counters that virtually all of the sting has been removed from both terms, courtesy of strictly limiting definitions. In the ICC Statute, "forced pregnancy" is defined as "the unlawful confinement of a woman forcibly made pregnant, with the intent of affecting the ethnic composition of any population or carrying out other grave violations of international law. This definition shall not in any way be interpreted as affecting national laws relating to pregnancy." Representatives of the Roman Catholic Holy See delegation, a key player in negotiating this final compromise language, feel certain that this definition of "forced pregnancy" can never be used to justify access to abortion.
"Gender," meanwhile, is defined as "the two sexes, male and female, within the context of society." Women's Caucus lobbyists clearly hope that the "context of society" inclusion leaves sufficient room for activist judges to interpret the term as legitimizing homosexual "marriage" and other radical-feminist platforms. However, most pro-family legal experts involved in the Rome negotiations regard this as unlikely.


---
"Human Rights Defenders Declaration" expected to pas UN economic and social council
by Austin Ruse

New York, NY--A declaration that encourages the creation of brand new human rights will likely pass the UN Economic and Social Council (ECOSOC) summer session in New York. First proposed at the UN Commission on Human Rights in Geneva last May, the "Human Rights Defenders Declaration" asks national governments both to protect "human rights workers" and to punish their opponents.
ECOSOC meets each summer in what is called their substantive session to vote on dozens of resolutions first initiated by the plethora of UN Commissions that meet in various UN sites around the world. The 54 Member States that make up ECOSOC pass their recommendations along to the 53rd General Assembly set to meet for three months starting in mid-September.
Of the dozens of measures currently considered by ECOSOC, it is the proposed "Human Rights Defenders Declaration" that most concerns pro-family lobbyists. Their concerns center on the rapidly expanding notions of what constitute human rights that should be protected by national governments and by the UN. The "Human Rights Defenders Declaration" appears to be a blanket protection for those promoting the most radical notions of human rights. The declaration says governments must encourage the development of new human rights and protect those who promote these new ideas.
Article 7 of the declaration suggests that governments should reinterpret currently accepted human rights in ways never foreseen by policy makers. Just this past January in Tokyo, Mary Robinson, UN High Commissioner of Human Rights, suggested that the widely accepted Universal Declaration of Human Rights prohibits discrimination based on sexual orientation. And just a few years ago, the UN Committee of Human Rights suggested that the International Covenant on Civil and Political Rights requires states to repeal laws prohibiting homosexual sodomy. Pro-family legal analysts point out that neither of these documents even remotely suggest such an interpretation.
Article 9 of the declaration gives "new rights" advocates the power to sue individual opponents, while Article 12 requires states to restrain or even punish citizens who oppose these new rights. Kathryn Balmforth, an attorney with the NGO Family Voice of the David M. Kennedy Center for International Studies, and who attended this session of ECOSOC suggests that a church pastor who criticizes the homosexual movement could come under fire with the assistance of this new declaration.
Balmforth points out that the American group North American Man/Boy Love Association (NAMBLA) advocates the right of men to have sex with minor boys. She wonders if this new UN declaration would one day protect NAMBLA from criticism.
At bottom pro-family lobbyists see this declaration as a major step toward guaranteeing such hitherto unaccepted human rights as abortion-on-demand, homosexual conduct, and even pedophilia.


---
OTHER IN THE NATION ARTICLES
"Baby Phoenix" survives against all odds
Biskind incompetent
Missionaries invade Canada
Protest results in assault by police
Billboard campaign angers homosexuals, politically correct
Rome conference ends without consensus
Monuments to the prophets
---

© 1998 Advocates for Life Ministries